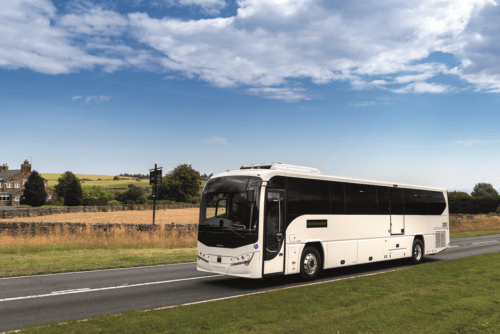 ADL will focus on production of its PSVAR-spec Leopard for stock next year, alongside customer orders for its whole range
Alexander Dennis has confirmed that it will build a substantial number of Plaxton coaches in 2024. Stock output will focus on Plaxton Leopard coaches with side-mounted wheelchair lifts and destination equipment to meet PSV Accessibility Regulations. Built on the familiar Volvo B8R chassis, a choice of I-Shift and automatic transmissions will be offered. All stock will have the upgraded interiors introduced this year with up to 72 next-generation Brusa seats.
Other Plaxton coach models will be built to order subject to demand, continuing the manufacturer's long-established practice at its Scarborough facility which benefits from a flexible set up that allows lines to be switched between bus and coach production.
Simon Wood, General Manager New & Used Coach Sales, said: "We're delighted to confirm the availability of Plaxton coaches next year. We can also announce that we have already taken significant orders for 2024 delivery both for the Plaxton Leopard, which is particularly well-suited to school and contract services and hires, and our versatile Plaxton Panther.
"We expect to deliver around 60 units into the market in 2023 thanks to returning demand, in particular for the market-leading Plaxton Leopard, as operators continue to upgrade their fleets to Euro VI and PSVAR. Following this, we have placed an order with Volvo for B8R chassis for 2024."
Josef Gisslow, Retail & Coach Sales Director at chassis supplier Volvo Bus, said: "Volvo Bus is very pleased and excited to continue its long-standing partnership with Plaxton. The B8R chassis has proven to be a very reliable and cost-effective coach platform that, when combined with Volvo's excellent service network and product support, delivers the highest levels of both productivity and customer satisfaction."