FirstGroup's Irish subsidiary, Aircoach, has been part of the group since 2003. In that time Aircoach brand recognition in Ireland has grown. Richard Sharman look's at the Aircoach operation and how it delivers its express airport network of services
Aircoach was set up in 1998 by John O'Sullivan, who had previously worked as an engineer with Bus Éireann, to operate express airport services.Five years later he had built the Aircoach fleet up to 40 vehicles, many of which were Setra S415HDs, the preferred vehicle of choice at that time.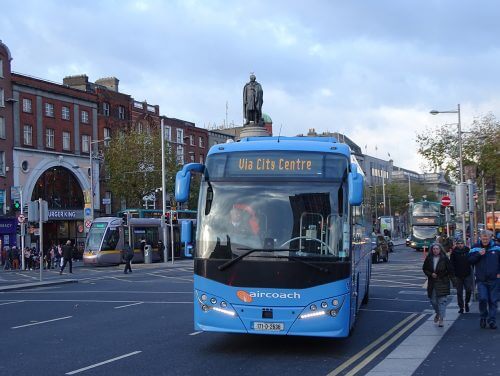 John had a strong business, but major funds were required to take operations to the next level. In November 2003, FirstGroup acquired 90% of Last Passive LTD t/a Aircoach. John retained 10% and stayed on as Managing Director. […]
By subscribing you will benefit from:
Operator & Supplier Profiles
Face-to-Face Interviews
Lastest News
Test Drives and Reviews
Legal Updates
Route Focus
Industry Insider Opinions
Passenger Perspective
Vehicle Launches
and much more!
| | | | |
| --- | --- | --- | --- |
| Fleet Numbers: | | | |
| Aircoach | First | Registrations | Vehicle Details |
| B20 | 64000 | 02-D-78371 (New as LV02 UUC) | Mercedes-Benz Citaro |
| B73-81 | 11073-81 | 08-D-67693-4/7/69040/3/70/69972-4 | Mercedes-Benz Citaro G |
| B82-3 | 11082-3 | 09-D-5300/3 | Mercedes-Benz Citaro G |
| B84 | 11084 | 131-D-28391 | Wright StreetLite |
| B85 | 11088 | 05-G-16967 | Mercedes-Benz Citaro G |
| B94 | 64000 | 06-D-85192 | Volvo B7RLE/ Wright Eclipse Urban |
| C1-10 | 20901-10 | 141-D-24/6/5/7-32/4 | Volvo B11R/ Plaxton Panther 3 |
| C11-16 | 20911-6 | 142-D-15753/2/0/48/9/51 | Volvo B11R/ Plaxton Panther 3 |
| C17-22 | 20917-22 | 152-D-8648/51/6-7/9/62 | Volvo B11R/ Plaxton Panther 3 |
| C23-28 | 20923-8 | 162-D-15011/12/09/13/14/10 | Volvo B11R/ Plaxton Panther 3 |
| C29-32 | 20929-32 | 171-D-2633-6 | Volvo B11R/ Plaxton Panther 3 |
| F33-39 | 20933-9 | IGZ 6135/2/1/29/33/36/30 | Volvo B11R/ Plaxton Panther 3 |
| C40-48 | 20940-9 | 191-D- To be Confirmed | Volvo B11R/ Plaxton Panther 3 |
| C49 | 24049 | 05-D-62327 (New as BX05 UVA) | Setra S315GT-HD |
| C51-57 | 20651-7 | 08-D-69442/70256/70351-2/4/7/9 | Volvo B12BT/ Jonkheere JSV |
| C61-4/6 | 20661-4/6 | 09-D-2773-4/7/3364/3708 | Volvo B12BT/ Jonkheere JSV |
| Key: | Fleetnumber Prefix B: Dublin Airport parking shuttle bus C: Aircoach F: First Northern Ireland | | |