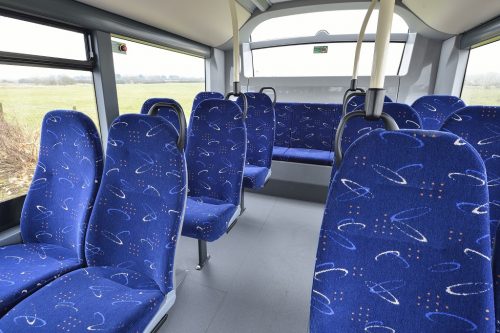 Alexander Dennis Ltd (ADL) has announced a new bus seat which is now available to order on Enviro200 and Enviro400 buses.
The SmartSeat was developed to the manufacturer's brief by 'a market-leading supplier.' Operators will have access to direct aftermarket support for the SmartSeat through ADL's own organisation.
ADL claimed the SmartSeat features a contemporary design with ergonomically formed backrests and seat upholstery, as part of a robust and durable construction with a low total weight.
It said passenger amenities will be accommodated by a seatback console, and USB power sockets can be integrated into the back shells or mounted on the seat frame to suit operators' preferences.
Care has been taken to ensure the easy replacement of parts, maximising vehicle uptime, the company added.
Arthur Whiteside, ADL's Managing Director UK Sales, explained: "We're constantly working to enhance the customer experience for bus operators and the ADL SmartSeat takes this to a new level by providing a fully integrated, quality seating solution that gives our customers a single point of contact during vehicle specification, and ensures direct and reliable support through our best-in-class aftermarket network."
The ADL SmartSeat is available for immediate delivery on Enviro200 stock, as well as to order on all Enviro200 and Enviro400 models.
Seatbelted versions are expected to be available from the third quarter of this year to complete the range.