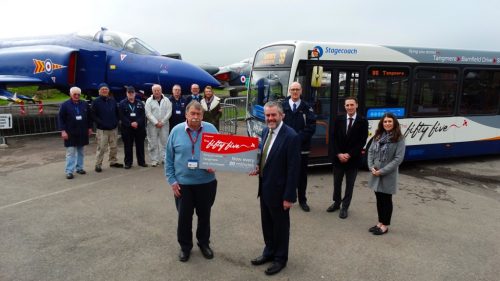 Upgraded fleet on 55 route includes WiFi and a new livery
Stagecoach South is improving its number 55 route, which links Tangmere and Boxgrove to Chichester city centre.
From Monday (April 16), a revised timetable will mean buses run every 20 minutes during the day, Monday to Friday.
In addition to the aforementioned timetable adjustments, the operator has upgraded its fleet in the area, with free WiFi available on every vehicle.
Drawing attention to buses running on the refreshed 55 route will be a newly-designed livery, which celebrates the history of British aviation in the area – an appropriate choice given the location of the Tangmere Military Aviation Museum at the end of the route.
Stagecoach worked in partnership with the museum, which hosted the launch of the revamped service.
Edward Hodgson, Managing Director for Stagecoach South, said: "Route 55 provides valuable transport for residents of Tangmere and Boxgrove to Chichester city centre, ideal for commuters, students and shoppers. It also provides the essential link to St Richard's Hospital for the whole area.
We hope that the improved 20 minute frequency will be welcomed by existing passengers as well as attracting new customers.
"Tourism is vital to the economy of the local area and Tangmere Military Aviation Museum is a great place to visit for aviation enthusiasts, historians and families with route 55 providing a regular link to the museum", he continued.
"We have a strong track record of attracting more people to bus travel and we will continue to focus on providing good value, high-quality services for local residents as well as visitors to the area."
Group Captain David Baron, Chairman of the museum, added: "Tangmere Military Aviation Museum welcomes the improved service that terminates by the Museum in Tangmere.
"More and more of our visitors use this convenient service to come to one of the UK's leading aviation museums, run entirely by volunteers."