The Greater La Rochelle area has ordered four 100% electric Aptis buses from Alstom via the CATP, the French central procurement office for public transport, for its Yélo urban transport network.
They will be in circulation on the Illico 4 BRT (Bus Rapid Transit) route from the beginning of 2020. Twelve metres long and equipped with three doors, they will run for La Rochelle transport operator RTCR.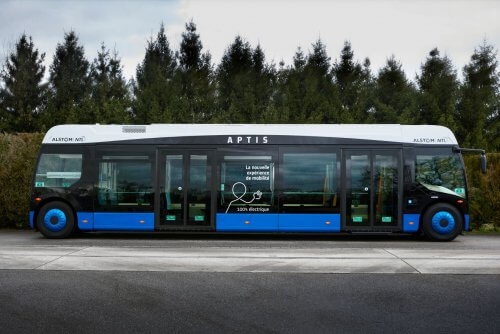 Aptis has a berthing system for perfect alignment with the pavement. Its low, completely flat-floor and wide double doors allow easy circulation and convenient boarding for people with reduced mobility and prams.
Equipped with large bay windows along its entire length, there are 25% more windows than on a standard bus and there's a rear seating area that affords panoramic views.
"Thanks to our 100% electric mobility solution, we are pleased to contribute to a greener public transport offer in the Greater La Rochelle area," said David Journet, President of Alstom Aptis.
"Aptis will offer a new transport experience that meets the expectations of our customers and their users."
The vehicles requested by La Rochelle are designed for slow charging at night at the depot.
Aptis is also available for occasional recharging at the end of each route, using ground-based charging solutions (SRS) or charging through the top pantograph.
Aptis was designed to have an optimised total cost.
This is possible thanks to reduced maintenance and operating costs and a longer service life says the manufacturer.
The aim for the local authorities, therefore, is to have a total cost equivalent to that of existing standard diesel buses.
Already chosen by the Strasbourg transport operator CTS, RATP and Ile-de-France Mobilités, as well as by the areas of Greater Grenoble and Greater Toulon, Aptis was also, as of September 2018, referenced by the CATP in its electric bus offer destined for public purchasing by local authorities.
This referencing allows member authorities to order Aptis vehicles directly and simply from the CATP without having to embark on long and costly procedures.
Read more news here: cbwmagazine.com/category/news