FRANCE
Showcase bus route now operated by Transdev in France with ethanol-fuelled Scania Interlinks
In looking for alternatives apart from electric buses, the municipalities of the French island Ile de Ré found the solution to their needs quite literally around the corner: Scania buses fuelled by ethanol from local producers' wine residues.
When the spectacular 3.2km bridge linking La Rochelle with Ile de Ré was opened to traffic in 1988, life on this historic island on the west coast of France underwent radical change.
Tourists from near and far crowded narrow roads caused the year-round population of 18,000 to rise to 135,000 in peak season.
Facing an unsustainable situation with three million cars crossing the bridge each year, the island has embarked upon a far-reaching programme to establish itself as a low-carbon area.
Funding for clean energy and transport, as well as maintaining wetlands, protecting ecosystems and restoring dunes, is provided through the 'ecotaxe,' which takes half of the annual €14m proceeds from the island's bridge toll revenues; motorists pay a hefty €8 in winter and twice as much in summer to cross the bridge.
"We want to encourage visitors to come by bus and to cycle around our island," explained Lionel Quillet, President of the Federation of Ile de Ré Municipalities. "And the clear objective from the outset has been that our public transport must be as clean as possible."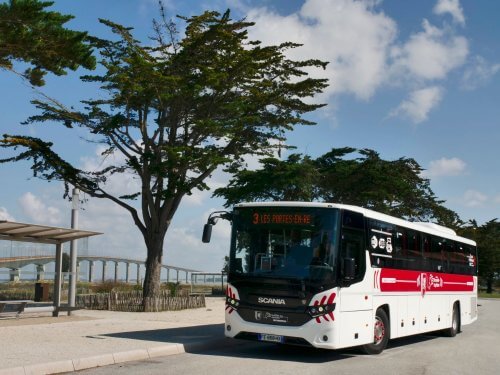 The regular two-hour coach service between La Rochelle and the westernmost point on Ile de Ré is now being driven by Scania Interlink coaches powered by ethanol produced from grape residue from local wine production.
"This service is the result of a strong willingness from the region of Nouvelle-Aquitaine to adopt sustainable mobility, which has been developed locally with Scania, ethanol producer Raisinor and Transdev," said Thierry Mallet, Chairman and CEO of Transdev, the company that operates the bus service.
"We now have a more sustainable way of moving around and since bicycles are a priority here on Ile de Ré, we have a very nice combination between coaches and bikes."
In addition to the new ethanol buses, the Nouvelle-Aquitaine region is also pioneering electric buses and examining the prospects of autonomous buses. "We ordered a fleet of 5,000 new buses to speed up the transition to renewable energy in our region," said Renaud Lagrave, Vice-President of Nouvelle-Aquitaine regional authority.
"At the time, governments were caught up in discussions on carbon reduction in the series of COP conferences. We believed that it was necessary – in fact, a duty – to actually start making the transition. That's why we chose this solution for the region's largest line in passenger terms and in practice test an alternative with ethanol."
For France-based Transdev, one of the world's largest public transport companies with operations in 20 countries across five continents, the number 3 bus route between La Rochelle and Ile de Ré will be a showcase for ethanol.
"With this service, we expect to have something that we can show France and the rest of the world," explained Thierry Mallet. "It's a local project but it is also a reference for what we can do with ethanol, how it can be managed, what the costs are and what the benefits are of this solution."
Read more news here: cbwmagazine.com/category/news