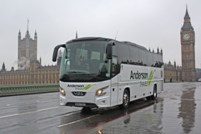 London family-run operator replacing majority of its fleet with new vehicles
London-based coach firm Anderson Travel is celebrating its 25th year in business. The company started in 1988 with one coach, which MD Mark Anderson drove himself. Now the operator has over 25 vehicles, two Tower Bridge premises and over 45 employees.
The firm provides airport transfers and a wide range of excursions and short breaks within the UK and across Europe to 85,000 plus passengers a year. Over the years it has built up an impressive list of customers, including many blue chip companies, schools, tour operators, private hire clients and sports clubs and has CoachMarque award, the only kite mark of currently available in the UK coach industry.
Highlights of recent years include being the chosen mode of transport for guests attending the royal wedding in 2011 and chauffeuring Team GB around to various promotional and social events during the London 2012 Olympics.
Replacing the majority of its fleet with 19 brand new stylish coaches is just one way in which the coach firm is marking this milestone, all part of the £4m investment programme which brought together each of the Anderson Group of companies under the main banner of Anderson Travel earlier in the year.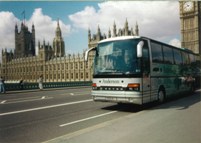 This year also sees the launch of Anderson Travel's newly developed website.
Mark Anderson, Director of Anderson Travel, said: "Anderson Travel is proud to be one of the longest standing independent coach firms in London. Over the years we have seen various coach operations come and go but it is through our focus on professionalism and high quality, customer friendly drivers and staff, expert in-house technicians, first rate service and our team's incredible wealth of experience and knowledge that sees us here today celebrating 25 successful years of business.
"It's down to this that we have built up a fantastically loyal customer base over the years and therefore been able to extend our offering and services to the extent that we have. We've enjoyed the journey every step of the way and look forward to the next 25 years."