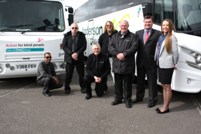 London-based coach firm Anderson Travel has supplied some of its drivers to operate a mobile Sight Loss Information Service, run by national charity Action for Blind People.
Action for Blind People's mobile Sight Loss Information Service, complete with the latest aids, equipment and specialist advice for people with sight loss, is visiting various locations within London and the South over the coming months.
The mobile carries the latest technology and gadgets to improve daily life ranging from vibrating bank note detectors to talking microwaves and tin lids. Also, staff on the unit offer impartial, practical advice and support to people interested in or affected by visual impairment.
Mark Anderson, Director of Anderson Travel, said: "We will be supporting Action over the next few months, providing drivers to operate its mobile sight loss vehicles around London and the South.
"It's not just a different kind of driving experience; it's an opportunity for our drivers to better understand the challenges people with sight loss experience on a day to day basis. The charity is short of drivers so it's great we can help out and do our bit." Bob Welsh, Mobile Service Manager from Action for Blind People, added: "We're extremely grateful to Anderson Travel for seconding some of their drivers. Without this support, we'd struggle to get to get to all the locations we need to visit." Visit www.andersontravel. co.uk and www. actionforblindpeople.org.uk