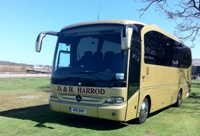 Norfolk family-run coach operator D & H Harrod has acquired a late used Mercedes-Benz Tourino midi-coach. The 57-plate vehicle has replaced an 03-plate Optare Nouvelle.
Paul Harrod, Transport Manager, told CBW: "It's one of our best ever buys. It's a proper coach-built vehicle. The response from our customers has been phenomenal. It's done holidays and trips. Passengers tell us they can't believe the level of comfort. I would consider having another one in future. Mercedes-Benz are top class motors – there's no doubt about it."
He said manual transmission is "not a problem," adding: "It's a lovely coach to handle – it's popular with all our drivers."
Paul concluded: "The Tourino's size is not too big or small. We acquired it from Royale European of Heathrow. Went to see it and test drove it. It doesn't do high MPG like a Cheetah but for comfort, it's second to none. We will have it retrimmed in due course."
Call 01366 381111. Visit www.harrodscoaches.co.uk.