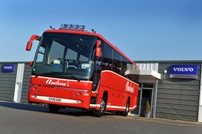 Two new Volvo B9R Plaxton Panther coaches have entered into service with Shetland Island-based operator Andrew's.
Managing director Morris Morrison said: "The vehicles are required to cover a wide variety of contracts for us, including cruise transfer, worker transfer and touring holidays, both in the UK and abroad, so it was important they were adaptable.
"The size of the coaches was also important. I had the opportunity to test the B9R demonstrator last year and it was good to drive, so it ticked all the important boxes."
The operator has a long-standing relationship with Volvo Bus regional sales manager, Duncan Crosby.
"We've dealt with Duncan since the early eighties," continued Morris Morrison. "It's fair to say he was pretty instrumental in our decision to specify Volvo again this time."
The 53-seat B9R combines the driving qualities of Volvo's full-size B13R platform with the versatility of the B7R, resulting in a mid-range, economic and adaptable coach.
The vehicles are fitted with a rear-mounted Volvo D9B 9.4-litre Euro 5 engine capable of 380hp, connected to the I-Shift gearbox.
The coaches have been specially fitted with front-mounted spot lights, LED destination equipment and air horns, giving them a distinctive appearance. They also feature Alcoa Dura-Bright aluminium wheels, which make for a professional looking finish.
"I've been dealing with Andrew's for quite some time," explained Crosby. "It's an operator I know well and one that we as an organisation have a long relationship with. The B9R offers that extra level of versatility a lot of operators are looking for these days."