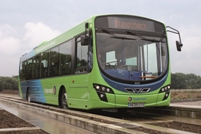 Stagecoach Group announced on Monday (February 20) it is investing around £60m into 390 new buses and coaches for its provincial UK bus and coach networks. Further orders will be placed later in the year.
It follows an annual competitive tendering process and brings Stagecoach's total investment in new vehicles for its regional bus operations over the past five years to more than £370m.
The first of the new vehicles will be delivered in May 2012. Included in the fleet are the UK's first orders for new 15-metre state-of-the-art Plaxton Interdeck coaches, which will run on Stagecoach Group's growing megabus.com budget coach operations.
Les Warneford, Stagecoach UK Bus MD, said: "This latest multimillion- pound investment is part of our commitment to give local communities high-quality, good value bus travel."
The latest orders include:
11 Volvo B11 Plaxton Interdeck coaches, a new model for the UK. The 72-seat coaches are designed to allow level access wheelchair boarding.
8 extra buses for the popular Cambridgeshire Guided Busway. The new buses – three ADL Enviro 400 Scania double-deckers and five Wrightbus Eclipse Volvo single-deckers – will run on 100% recycled biofuel.
19 hybrid-electric buses, as previously announced, which are due to enter service in Perth and Aberdeen this summer. The ADL Enviro E350H single deckers, which are also a new model to the UK, have been purchased through the Scottish Government's Green Bus Fund at a cost of £5.3m, including a grant of £1.8m from the fund.
All of the new vehicles are due to be in service by January 2013.
Details of the new orders are as follows:
19 ADL Enviro 350H singledeckers (9 for Perth, 10 for Aberdeen)
38 ADL Enviro 400 Dennis Chassis double-deckers
57 ADL Enviro 400 Scania Chassis double-deckers
54 ADL Enviro 300 Dennis Chassis single-deckers
28 ADL Enviro 300 Scania Chassis single-deckers
5 Wrightbus Eclipse Volvo singledeckers
140 ADL Enviro 200 midi-buses
1 Optare Versa midi-bus
11 Optare Solo mini-buses
9 Plaxton Elite Volvo B13R coaches (15m)
10 Plaxton Panther Volvo B13R coaches (15m)
11 Plaxton Interdeck Volvo B11 coaches
7 Van Hool Astromega coaches.