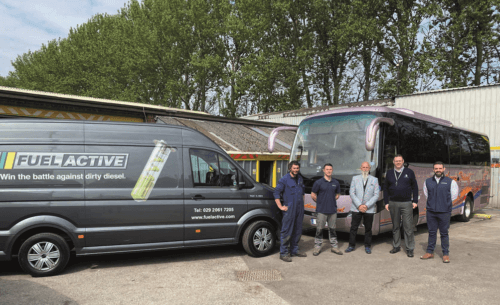 Runcorn-based coach operator Anthony's Travel is trialling FuelActive's floating fuel pick-up system, as part of a drive to cut fuel consumption and reduce carbon emissions across its fleet. The family-owned business, which operates 15 coaches throughout the North West and beyond, has committed to reducing its environmental impact, with its whole fleet already meeting the latest Euro VI emissions Standards. The two companies were introduced when Cardiff-based FuelActive joined the Road Haulage Association (RHA), of which it is now a Gold Member. Anthony's Travel Director Richard Bamber is a member of the RHA's Northern Regional Council and was keen to hear more about the fuel pick-up system, which its manufacturer says has been proven to save operators up to 5% in fuel consumption.
"Over the years we've had the promise of additives offering extra fuel economy and performance, but none have really achieved anything," said Richard. "Better miles per gallon figures will be a key point for us."
The manufacturer pointed out that there is a secondary benefit to the FuelActive system, as the floating pick-up pipe ensures that only clean diesel is taken from the tank, avoiding any contamination or water that may have collected at the bottom. This reduces the risk of
the engine using contaminated fuel, which can lead to additional and potentially costly fuel filter changes and more regular services, or in the worst case vehicle breakdowns.
"One coach in particular, we've had a lot of issues with contamination," said Richard. "But the increased efficiency in fuel consumption is our main target."
The company is initially installing the FuelActive system on two of its vehicles, including the coach that has experienced fuel contamination in the past. Fuel consumption and service requirements will be closely monitored over a three to six month period, with the company assessing fuel used per kilometre travelled and driver feedback. Due to the nature of the business, with varying journeys and a wide range of customer requirements, it is not possible to continually drive over the same routes, or with an identical load on board. However, Richard said he is confident that any fuel economy improvement will be easy to track. Given that the business currently consumes
around 24,000 litres of diesel each month, any saving is going to be very well received, he said. As important as the potential financial savings are though, Richard said he was equally concerned about reducing exhaust emissions. A litre of diesel corresponds to 2.68kg of CO2, so a 5% reduction in fuel use could cut the company's carbon footprint by more than 3,200kg of CO2 each month. "If we can see a long-term
improvement in mpg and more efficient running of the vehicles, that will be a big success," he added.
FuelActive says its new pick-up is easily installed, with a new entry cut into the top of the fuel tank and the fuel sender hose moved across. Installation time on coaches is said to be around 45 minutes per vehicle, and FuelActive guarantees the installation for five years.
"Unlike standard fuel stack pipes that draw fuel from the bottom, FuelActive's innovative floating fuel pick-up system always draws fuel
from the top," said Paul Allera, RHA Technical Director. "This means the cleanest fuel is always delivered, ensuring a clean burn, esulting in reduced carbon emissions and a positive effect on economy. There's no magic switch over, where at a flick diesel will transform to a zero-emission vehicle. It will be a gradual process, so anything that can reduce emissions has to be beneficial."
The two companies will carry out their first inspection of data in August, at the three-month point. If necessary, the trial will continue
until November, to build a more complete picture of the vehicles' performance.