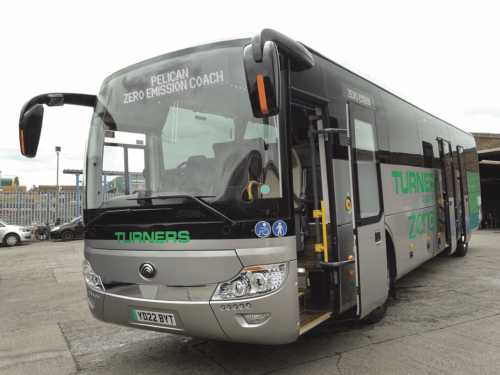 The Bristol-based coach company is the first operator in the South West to offer a zero-emission electric coach to its customers
Currently the UK's only zero-emisson electric coach, the Yutong TCe12 is slowly gaining a foothold with operators that can see the
potential of its green credentials with corporate and private hire customers, and which want to make a difference to the quality of
air in the areas which they operate or visit.
Pelican Yutong has supplied Bristol-based Turners Coachways with a PSVAR-compliant Yutong TCe12, the very first to operate in the
South West of England. The coach, which can seat 50 people, features leather and part cloth seating, air-conditioning, Mobitech destination equipment and a Hidral Globel wheelchair lift which is stored in the steps of the centre double plug doors. The removal of two double seats
and the floor section opposite the centre doors reveals an area for one wheelchair passenger. The 281kWh battery will allow operators a range of well in excess of 200 miles on a full charge. It can be charged with either a 60kWh, 90kWh or 120kWh DC charger making a full charge possible in less than two hours. The electric drive line and control system is identical to that used in the rest of the Yutong UK range, which includes the E10 and E12 service buses and the ABe13 airport bus.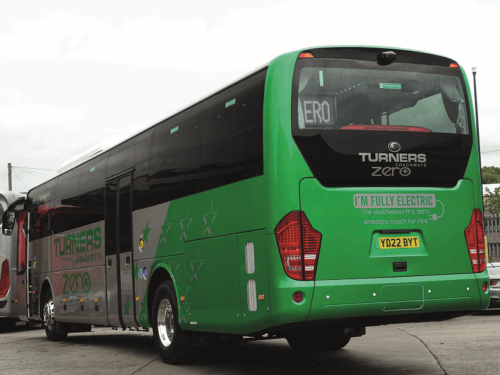 Commenting on the purchase, Managing Director of Turners Coachways, Kevyn Jones, said: "We've been in discussions with Pelican about the TCe12 since its launch as the technology is clearly the most advanced available to the UK coach market at this time. We have initially placed an order for one vehicle to ensure that it meets our operations needs, if it does then with the current cost of fuel and its environmental credentials purchasing further units is inevitable.
"The initial coach will undertake a mix of daily commuter routes for corporate customers as well as private hire work. The purchase is part of a wider fleet investment programme to meet the requirements of the upcoming Bristol clean air zone which has seen 32 Euro VI coaches join the fleet since 2020. This includes eight new Mercedes-Benz Tourismos and a new VDL double deck which have joined us this Spring."
Kevyn added: "Additionally, we are trialing a number of electric buses at the moment in preparation for a new project which will launch later this year."