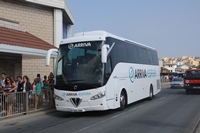 Deutsche Bahn-owned Arriva sets out its green agenda for the years ahead
FRANCE Arriva plc, one of Europe's leading bus and rail operators, has announced ambitious plans to reduce carbon emissions, conserve energy and invest in renewable sources, reduce water consumption and recycle more waste.
Arriva's announcement came as more than 190 nations gather in the French capital for the two-week Paris Climate Change Conference. The company is aiming to reduce its annual direct carbon emissions by 30% by 2020.
It will be further investing in 'greening' its fleet. It already operates electric and hybrid buses across Europe and is actively investing in new technologies to reduce carbon emissions in existing vehicles, including the Econospeed throttle control system for buses and driver advisory systems for trains. In partnership with DriveNow and BMW, in September it also launched the world's largest fully electric city car scheme in Copenhagen.
The carbon emissions goal forms a key part of Arriva's Destination Green programme, which sets out their environmental ambitions as well as informing employees on how they can reduce their environmental impact with simple steps, such as avoiding unnecessary engine idling, braking gently, turning off equipment, and recycling waste.
In addition to cutting carbon emissions, Destination Green sets out a number of other goals that the company is aiming to achieve. These include:
a 30% reduction in annual building energy consumption;
a 30% reduction in annual water consumption;
a 30% share of electricity used being renewable, and
no more than 30% of waste going to landfill.
Each of the pledges is matched with practical steps that the company and its employees must take for in order for them to be realised by 2020. Employees are invited to make a personal fuel, energy, water or waste pledge, for instance looking out for water leaks, placing waste in the correct bins, or making sure equipment is switched off to ensure the company maximises its achievements.
"I am incredibly proud to announce this plan with the Paris conference now underway," said Arriva CEO, David Martin. "With these ambitious goals, we are doing what we can to support the delivery of a binding global climate deal.
"As a public transport provider we are already contributing to a greener society, but with Destination Green we want to go beyond that. Arriva's goal to reduce direct carbon emissions by 30% presents one of the most ambitious environmental targets ever set in the transport sector.
"Our plan is also unique in that it focuses heavily on our employees. Climate change cannot be tackled in boardrooms. We need everyone across the business to be aware of climate change and what they can personally do to tackle it. Everybody has a unique contribution to make, and even small actions will make a huge difference.
"By investing beyond bus and rail, we also want to encourage a modal shift and thereby a greener society. We want public transport to be the go-to option."
The goals set out in Destination Green will guide targets and plans in all 14 European countries where Arriva provides services.