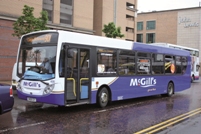 Competition watchdogs have been asked to investigate McGill's' bid for Arriva West Scotland.
Labour MP Jim Sheridan has written to the Monopolies Commission about the Greenockbased firm's £10m deal to buy its rival – effectively seeing McGill's double in size and become the third biggest bus operator in Scotland.
The acquisition is expected to be completed between February and March this year.
However, Sheridan, who represents Paisley and Renfrewshire North, is concerned about the impact the takeover will have on his constituents.
He said: "I have been approached by a number of constituents who are concerned about this issue and the potential consequences of rising fares and diminished services.
"It is on that basis I have written to the Monopolies Commission, as there will be no effective competition to McGill's in many areas of Renfrewshire.
"Having spoken to the trade union representatives of the employees concerned, I am equally perturbed by the initial proposals put forward by McGill's, which could have a detrimental effect on long-term employees' terms and conditions."
McGill's' MD Ralph Roberts, confirmed the company had received an information request from the Office of Fair Trading.
"We are happy to assist with the request. We are confident of a positive outcome," commented Roberts.
"The acquisition is most definitely in the interest of the people of Renfrewshire, who can look forward to the ability to travel on an enlarged Renfrewshire network and enjoy more reliable travel on newer buses driven by our friendly, customer-focused drivers."