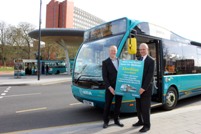 Arriva Southern Counties has introduced 15 11.1-metre-long Optare Versas at its Gillingham depot for two local Medway Mainline services, representing a £1.8m investment.
The new buses are in use on services 166 between Chatham, Luton and Lords Wood and the 176 which runs across the towns between Walderslade, Chatham, Gillingham and Hazlemere Drive.
They bring the amount invested by Arriva in new buses for Medway over the past four and a half years to £5.8m.
Launching the vehicles, Arriva's Regional Managing Director, Heath Williams, said: "In the current economic climate I am delighted we are able to invest once again in new buses for our Medway Towns services.
"They will give a more comfortable ride to passengers on routes 166 and 176 and will also help to bring about improved air quality in the area.
"These new buses, along with an influx of fully-refurbished buses from elsewhere within Arriva, are helping to reduce the age profile of our Medway fleet and the nearly £6m investment we have made in new and refurbished buses over the past few years is testament to our confidence in the future of public transport in the Medway Towns.
"I hope people using their cars without appreciating the true running costs will see the sleek new buses and realise we offer a frequent service with handy stops in the town centres and that by using the bus for at least some of their local journeys they will help to reduce both pollution and congestion."
David Bond, Transport Operations Manager for Medway Council, said: "Medway Council is delighted to be associated with the investment in new buses by Arriva.
"This complements significant investment made by the council which includes the new Chatham Bus Station, a new RTI system (including audible next bus announcements at bus stops and RTI to mobile phones), 60 new bus shelters, further bus stop improvements to enable easier boarding and alighting, new flags at all stops showing location name and unique code for real time information, a new bus lane in Rochester which, on average, saves up to three minutes for each peak time journey and a new bus only link between Strood Station and Medway City Estate.
"All this investment reflects the very good working relationship between Arriva and Medway Council which has helped achieve a more reliable local bus network and increasing levels of patronage."