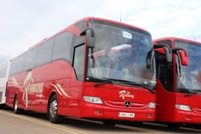 Redwing Coaches' management team has successfully completed a buyout of the company from London-based private hire firm Addison Lee.
The MBO team consists of Deputy MD Nigel Taylor, MD Paul Hockley and Matt Evans from third party Chancery Partnership.
Nigel told CBW: "Addison Lee was looking to move on. We love the company and we want it to keep going. Although it will downsize slightly, I would like to think the business will move forward.
"Nothing about the company will change apart from the Addison Lee name coming off the vehicles."
All staff have transferred and the operator has downsized from 51 to 40 vehicles. The firm says there will be no disruption to its services.
The transfer of ownership took place on Monday, April 15. It is understood the future of Redwing's sister company Reliance Travel is yet to be decided.
In a separate development Addison Lee has been sold to private equity firm Carlyle Group for £300m.
Carlyle said it hoped to expand the firm into international markets and continue to transport about 10 million passengers each year in London. Founder John Griffin will remain Chairman of the company and his son Liam will be CEO.