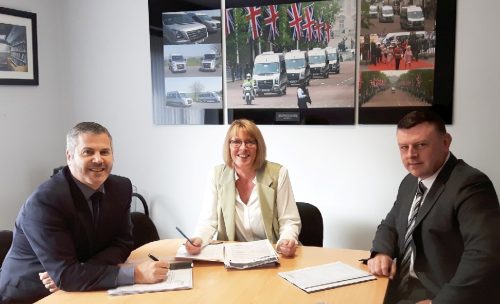 Mellor Coachcraft has announced a new order to supply nine of its Strata buses to Arriva North and West Wales.
The vehicles are built on the Mercedes-Benz low-floor Sprinter chassis, with each having a passenger capacity of 22, plus space for one wheelchair. The buses are due for delivery in June 2017 and are set to be deployed on local service routes around Macclesfield and Winsford in Cheshire.
Each Strata will include Esteban civic seating trimmed in E-Leather, with USB charging points at each seat position, on-board WiFi and destination equipment. CCTV and reversing camera equipment are also included.
John Randerson, Managing Director for Mellor Coachcraft, said: "We're excited to be announcing this new order from Arriva which will further enhance service provision in the Cheshire area.
"In particular, there is no compromise to internal space, with the majority of passengers seated for their journey. In addition, the array of onboard features are equal to those fitted on most large sized single-deck buses, so despite the bus being smaller, our customer has not had to sacrifice any of the benefits today's bus passenger wants and indeed expects."
Phil Cummins, Arriva's Managing Director for Manchester and Engineering Director for NW and Wales, said: "We've selected these nine Stratas specifically for their passenger capacity, which meets our local service requirements perfectly and we're really looking forward to our new working relationship with Mellor.
"The fuel economy performance offered by the vehicle was another reason for us choosing the Strata, as keeping our fuel costs to a minimum is very important – as is the case for any national operator today.
"The bus is also very easy to maintain, which means much less time in the garage and more time out on the road serving the local community."
Mark Wynne, General Manager for Arriva (Winsford), added: "Following a demonstration of the Strata, we received some very positive feedback from our customers and it certainly meets the high standards we wanted in terms of passenger features and comfort.
"This latest purchase highlights Arriva's commitment to investing in local bus services in the Cheshire area and we're really looking forward to seeing our new buses going into service here."