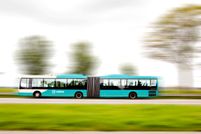 Arriva Nederland already has a strong presence in the country
NETHERLANDS Arriva Nederland has won a €750m contract to operate bus services in the country's South Holland province, its second major bus contract in a matter of weeks.
The eight-year concession, which has a two-year extension option, begins in December 2012 and adds to Arriva Nederland's strong presence in the province where it already operates bus, rail and waterbus services.
Arriva Nederland will operate 230 WiFi-enabled low-emission buses. The company also plans to revamp timetables which will integrate the new bus services with its existing multi-modal networks in the South Holland regions.
Arriva will also open three new travel shops in Gouda, Alphen ann de Rijn and Leiden to help improve customer service and ticketing information.
Anne Hettinga, MD at Arriva Nederland, said: "To win two major contracts in the space of a few weeks is excellent news for the business and our employees.
"This latest contract win gives us the perfect opportunity to integrate our existing services in South Holland and offer the most comprehensive service for our customers.
"Passengers in the province want a top quality, integrated public transport system so we welcome the opportunity to deliver the services and network they deserve. I am convinced our investment will attract more people to public transport in the years ahead."
The tender award is subject to a six-week appeal period which started on April 18.
As previously reported, on March 2 Arriva Nederland won a €450m contract to operate buses in north and south West Friesland and will continue to operate services on the island of Schiermonnikoog. The eight-year contract, which also includes a two-year extension option, also begins in December 2012.