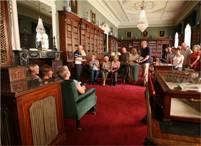 Discover the newly accessible room or explore the extensive grounds
Visitors to Tatton Park's mansion are being encouraged to feel 'at home' in the library with a special re-display of the stunning room.
A large area of the library has been made accessible to the public, creating an inviting seating area for visitors to read, relax and admire.
A visitors' library of specially purchased books can be enjoyed from beautifully re-upholstered sofas from Tatton's collection. A number of fragile works have been digitised and stored on iPads for visitors to admire, without putting the originals at risk. Replica copies of some of the library's finest and rarest books are being produced.
The library at Tatton is regarded as one of the National Trust's top library collections. There are more than 12,000 books, varying from a treatise on architecture printed in 1513, to first editions of novels by Jane Austen and Sir Walter Scott.
The mansion is now open to the public until October 28 this season.
The 1000 acres of parkland are home to two herds of deer, and there is also a 50-acre garden to explore. The farm and Old Hall complete this impressive estate.
Group admission is £4.50 per person for a single attraction (farm, mansion, Old Hall or gardens) or £8 per person for a 'Totally Tatton Ticket' (entry to all attractions). Entrance to the mansion is free for National Trust members.
Coach parking is free, and available in the main car park, 250 yards from the Stableyard and shops, with a drop-off point outside.
The park is located two miles north of Knutsford in Cheshire, just five miles from the M6.
The average visit length is three hours, but this can be extended with tours. For a full day in the area, the trip could be combined with a visit to Chester Zoo, Arley Hall or Dunham Massey (CBW1029).
Visit the website at www.tattonpark.org.uk or call 01625 374400 for more information.