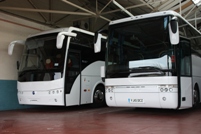 Arriva Bus and Coach is opening the doors of its Lodge Garage headquarters in Cleckheaton for the renowned dealership's spring open days next Wednesday and Thursday (April 25 and 26).
Visitors can expect to see a wide range of new and used vehicles including the new look Temsa Safari HD and the Van Hool TX. They will also be able to meet and talk with Arriva's team of experienced industry professionals.
Sales manager Robert White informed CBW the firm's new Managing Director, Steve Hodkinson, would be on hand to meet and greet customers both old and new.
Hodkinson, who has taken over following the retirement of Bob Macleod, told CBW he had joined Arriva at a very exciting time: "The Open Days are the first to be held here for a number of years and will give me a fantastic opportunity to get to know some of our key customers and business partners. "It's already clear to me that our team here has built up some very strong and effective relationships over the years, helping us to deliver high quality products and highquality after-sales support to a very wide range of customers."
"We're looking forward to two very busy days and I would urge everyone who can to come and join us," concluded Steve.
For product listings and further details visit www.arrivabusandcoach.co.uk or call 01274 681144.