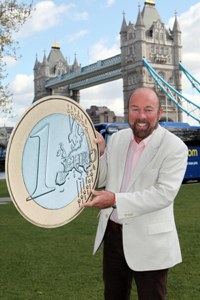 Tickets will cost as little as £1 or €1 for trips to Paris, Brussels, Amsterdam and Boulogne
Stagecoach has launched its new low-cost coach network from the UK to Continental Europe.
Passengers can now travel to Paris, Brussels, Amsterdam and Boulogne on the Group's budget coach operator megabus.com, on daytime and overnight services from London Victoria Coach Station. There will also be a dedicated Paris- Brussels-Amsterdam service.
A new fleet of Plaxton-bodied Volvo B9 coaches allocated to Rugby depot, equipped with free Wi-Fi and toilets, will be used on the network. The cheapest tickets will be just £1 or €1 per journey (plus 50p/50c booking fee).
Sir Brian Souter, Stagecoach Group chief executive, said: "We launched megabus.com in Scotland nine years ago and it has already transformed inter-city travel in the UK and North America. With the rising cost of living, rocketing fuel prices and running a car becoming more and more expensive, everyone is looking to make their money go further.
"For too long, people in many parts of Europe have been paying too much for their coach travel. Our new network offers families, students and tourists great value fares and high-quality coaches. These services will deliver a longoverdue shake-up to the over-priced European coach travel market."
The operator is also investigating the possibility of a sleepercoach service between the UK and Europe. It is currently working with Van Hool on a 15-metre concept vehicle, based on the Belgian manufacturer's Astromega doubledecker coach, the same model Stagecoach uses on its popular Oxford Tube service.
Current designs would see the sleepercoach fitted with 48 seats and tables for use during the daytime, which could be converted into 43 bunks on overnight services.
megabus.com already operates a sleepercoach service between Glasgow and London seven nights a week, using specially-refurbished single-deck articulated coaches.
Sir Brian added: "Our new routes to France, Belgium and the Netherlands have already been extremely popular. Based on our experience in the UK, we are also very excited about the potential for sleepercoach services across the Channel and look forward to continuing to develop our concept vehicle."
The new Stagecoach service will compete against National Express-owned Eurolines, which operates daily services from London Victoria to Paris, Amsterdam and Brussels. The firm said it attracted almost 60,000 additional passengers during 2011 with what it called "significant growth" on its Paris and Amsterdam routes.