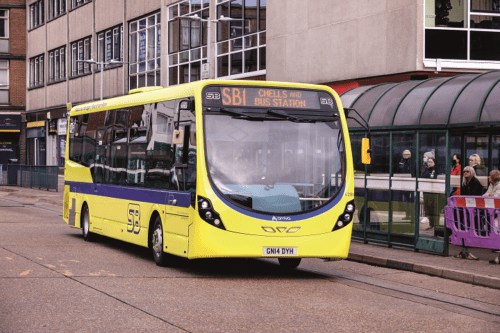 Following on from a similar move in Milton Keynes, Arriva has pulled out of a £6.1million partnership with Hertfordshire County Council (HCC) to provide electric buses in Stevenage. The project had been awarded Zero Emission Bus Regional Areas (ZEBRA) funding to introduce 27 electric buses to the town.
HCC's Executive Member for Transport, Councillor Phil Bibby told the Council's Highways and Transport Cabinet Panel that: "There is nothing we can really do about this but we have negotiated with the Department for Transport an extra few weeks to phone around and find a new operator." He added that he would have expected all operators would be keen to take public money to roll out the first electric bus fleet in Hertfordshire.
An Arriva spokesperson told CBW: "We are disappointed to announce that as a result of reduced customer demand post-pandemic, and recovery significantly lower than national trends, we will no longer be moving forward with plans to bring a new electric fleet to Stevenage at this time. We share the frustration this decision will cause, particularly amongst our customers and with our delivery partner, Hertfordshire County Council, but we have taken this difficult decision with the long term viability of our network in mind. We are proud to have served local communities in Stevenage for more than 25 years and are focused on continuing to do so, working in close partnership with the Council to deliver for passengers."
The situation mirrors that of Arriva's decision to pull out of a consortium that would have made Milton Keynes one of Britain's first all-electric bus cities, after the city council successfully bid for £16m of ZEBRA funding in 2021, which would have given the city 60 new electric buses.