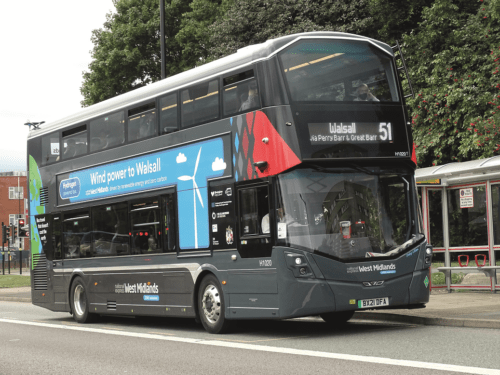 Strikes are set to take place at National Express West Midlands from 16 March as a pay dispute continues, at the same time as parent company National Express Group announces record profits.
More than 3,000 National Express West Midlands bus drivers have voted to strike in a row over pay, says trade union Unite. The staff, who voted by 96% for industrial action, will begin continuous strike action on Thursday 16 March, and be joined by over 200 engineers at the firm who voted for industrial action over pay in January.
Unite says the offer the company has made to staff in the West Midlands amounts to 'a real terms pay cut.' Unite General Secretary Sharon Graham said: "National Express is sitting on mountains of cash and can absolutely afford to give a pay rise to its staff that reflects rocketing living costs. It needs to do just that. Unite defends our members jobs, pay and conditions to the hilt and the National Express workforce has their union's total and unflinching support during these strikes."
National Express told its customers: "We have been advised that some of our teams will be going on strike from 16th March. We anticipate that there will be a limited network running from this date. We are striving to protect essential public services. We are sorry for the significant disruption this will cause and we want to reassure you that we are doing all we can to minimise the impact on our customers. We are continuing to talk to the union."
Meanwhile, parent firm National Express Group's latest figures show a significant increase in operating profit compared to the previous year, up from £87m to £197.3m. The company reported that overall revenue increased by 29% to £2.8 billion and an overall increase in passenger numbers of 23%, accompanied by sustained growth in passenger demand in Spain, Morocco, the UK and Germany, especially in the second half of the year.
The Group said it remains resilient and agile in the face of industry headwinds, having restructured operations in Spain, Morocco, North America and the UK and completed a network relaunch of its UK scheduled coach operations, saving 6% in cost per passenger mile, as well as actively managing contracts to recover inflation and with fuel costs 100% hedged for 2023 and 56% for 2024.
Group Chief Executive Ignacio Garat said: "I am pleased with the significant progress we made in 2022, which saw strong growth in passenger volumes resulting in a 29% increase in Group revenue; the doubling of revenue in our UK coach business and Alsa's revenue exceeding €1bn for the first time. After a first quarter that was impacted by Omicron, the resilience and agility of our teams amid a uniquely challenging operating environment meant we saw momentum build across our businesses through the year and continue into 2023.
"Whilst the operating backdrop remains challenging, with inflationary pressures continuing in key markets, we expect to see that momentum continue, driven by growth in passenger numbers, mobilisation of new contracts, a continuing recovery in US School Bus and the securing of rate increases during 2023 and 2024 allowing us to recover cost increases.
"Our expectations for 2023 are unchanged, and we have clear and robust actions in place to mitigate macro-economic headwinds and to reduce costs if necessary. The continued and expanding demand for public transport over the coming years will bring growth opportunities and our Evolve strategy positions us well to capitalise on them."