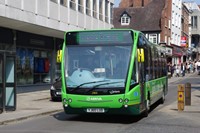 Services to be operated at a lower but more consistent frequency from November, with new Wrightbus StreetLite Micro Hybrids to be delivered in October 2017
Arriva has retained a Park & Ride services in Shrewsbury, with an improved service commencing on November 1, 2015.
Following a tender exercise, Shropshire Council awarded a new five-year contract to manage Shrewsbury's Park & Ride service to Arriva Midlands. Under the new contract, the current three Park & Ride sites – Meole Brace, Harlescott and Oxon – will be retained and their capacities will remain the same. The fares will also remain unchanged, and bus pass users will continue to get a 50% discount.
To improve reliability and punctuality from November 1, buses will run every 20 minutes from Monday to Saturday, with timetables to be made to available on 'inbound' journeys for the first time. Inbound services will operate from 0720hrs each day (0800hrs on Saturdays) with the last return service leaving the town centre at 1830hrs.
Buses currently run 'up to every 10 minutes' and 'up to every 15 minutes.' Shropshire Council said that in practice this had proven to be confusing for passengers in terms of predicting bus arrivals and departures, as well as logistically challenging for the operator.
Arriva will also refresh each of the car park sites, including updating the publicity and promotional material – and a new service which provides real-time departure information via a smartphone app is also being planned.
The existing Park & Ride vehicles will be used until the end of October 2017, when they will be replaced by Wrightbus StreetLite Micro Hybrid buses.
Rob Cheveaux, Area Managing Director West for Arriva Midlands said:
"I am delighted that Arriva Midlands has been chosen to continue providing the prestigious Shrewsbury Park & Ride services on behalf of Shropshire Council.
"We will continue to work in partnership with the council to deliver a reliable, punctual and attractive high-quality service for commuters and visitors to the attractive town centre.
"We are committed to making further improvements in 2017 with the introduction of ultra-low emission hybrid vehicles to further reduce noise and air pollution within the town.
"Park & Ride sites are situated at convenient locations on the edge of Shrewsbury and by parking at these sites help to reduce congestion in town."
Simon Jones, Shropshire Council's Cabinet member for highways and transport, said: "Following many years of high-quality service, I'm really pleased that the council and Arriva will now continue to work in partnership to maintain an attractive, reliable and high-frequency service for workers and visitors to the town.
"Users will see an improved service, but no change to fares. The intention to run to advertised and set 20-minute departures throughout the day will give much greater certainty on travel times for users, and will also give a more efficient and financially-sustainable service.