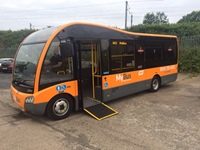 Strathclyde Partnership for Transport (SPT) has been ordered to pay damages to a bus company after a ruling that it behaved unreasonably in terminating a £200,000-a-year contract, the Scottish Herald has reported.
The organisation owes £100,000 in damages to Clydebank-based Avondale Coaches after it lost an appeal at Glasgow Sheriff Court. The body's legal costs are also likely to run into tens of thousands.
Sheriff Principal Craig Scott upheld the original ruling that SPT had acted in an 'arbitrary, capricious and unreasonable manner' when it cut the Ayr Coast dial-a-bus contract run by Avondale.
SPT ended the £206,146-a-year contract in September 2009, 10 months before it was due to expire, after what it described as a 'series of breaches' by the bus operator.
SPT claimed that poor road-worthiness, use of taxis, and deployment of buses without dial-a-bus branding were grounds to sever the contract.
However, Sheriff Scott agreed that Avondale had been the victims of a 'concerted campaign' by SPT, and there had been no legitimate grounds to terminate it.
Glasgow Sheriff Court previously heard how Avondale bosses received a number of warning letters in summer 2009, culminating in a service review meeting on September 21.
Two days later, SPT ended the contract and handed it to Kilwinning-based Shuttle Buses Ltd to operate on an interim basis. Shuttle Buses was subsequently awarded a five-year contract for the service, renewed this year until 2020.
It emerged that SPT chiefs had already invited tenders to take over the Ayr Coast contract prior to the meeting with Avondale bosses.
Sheriff Alayne Swanson, who presided over the original case in 2014, said: "This was a sham of a meeting. SPT had made up their minds in advance of what the outcome was going to be. Otherwise, their concerted campaign of action over the preceding 52 days would have made no sense."
She added: "The evidence did not allow me to make a finding as to the reason for [SPT's] unreasonable actions but the evidence about a new contractor being in place so quickly was food for thought."
SPT's representatives denied the quango had 'manufactured warnings' as part of a vendetta against Avondale or as a strategy to justify ending the contract early.
The court heard SPT was entitled to revoke a contract if an operator racked up at least 20 penalty points in a 12-week period. Avondale accrued 28 from the six warning notices issued by SPT between July 13 and September 3, 2009.
The court heard how Avondale had paid for taxis on 'numerous occasions' during the first four years of the contract to ensure vulnerable clients were not left stranded if a bus broke down, which was 'standard procedure,' the court heard.
However, three warnings concerning the 'use of taxis' were issued to Avondale between July and August 2009, incurring 13 points.
Christopher Irving, Director at Avondale Coaches, said: "I could not understand how the practice which had been adopted for four years was suddenly unacceptable."
SPT claimed the warnings stemmed from a high frequency of breakdowns, but the Sheriff said this was 'unsupported by evidence.'
She described SPT witnesses as inconsistent and unreliable.
A further five points for using a vehicle without dial-a-bus livery was excessive, she said, while two alleged failures to pick up bookings – which added another 10 points – were handled unfairly. In both cases the warnings were issued more than two weeks after the alleged incident, by which time the passenger schedules had been destroyed – as the SPT contract dictated.
Sheriff Swanson said: "In full knowledge of that fact [SPT] issued warnings to [Avondale] on timescales which prevented them from making any investigation into the incidents reported.
"SPT failed to act honestly and in good faith."