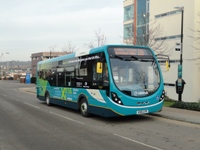 Arriva Southern Counties (ASC) has introduced five new Wright StreetLites onto its route 116, which are being branded as X-BUS 116.
Based at Gillingham depot, the new buses are the first Door Forward Wrightbus StreetLites to enter service and represent an investment by Arriva of £600,000, bringing the total spent on new and refurbished buses for the Medway Towns in the past eight years to nearly £14 m.
The 116 serves Chatham, the shopping centre at Hempstead Valley, Universities at Medway campus, Mid Kent College, Gillingham town centre, Medway Maritime Hospital and Rainham.
Arriva said the new StreetLites will have eye-catching vinyls to draw attention to the service which runs every 20 minutes for the main part of the day on Mondays to Fridays (half-hourly on Saturdays).
The 37-seat, 10.1 metre buses are also the first local buses in Kent and Medway to feature free Wi-Fi.
"Delighted" to announce further investment in new buses for the Medway Towns, ASC's managing director, Heath Williams, said: "These are the latest in an ongoing programme of upgrading our fleet and will offer new standards of comfort to our customers on the 'X-BUS 116' route. The free Wi-Fi on board will, I'm sure, be particularly useful to those with smart phones who will now be able to use the internet whilst on the way to school, college, work or shopping."
Free Wi-Fi has also been introduced on route 101 between Maidstone and Medway, which is run by eight ADL Enviro 400s and it is hoped the new facility will be popular with Arriva's customers, especially the students who use these two services.