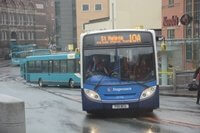 Operators deliver on pledge to introduce multi-operator smart-ticketing in metropolitan areas, with a quarter of the English population expected to benefit
The 'Big Five' UK bus operators have completed the roll-out of smart, multi-operator ticketing in England's biggest city regions, delivering on a pledge made by the operators in November 2014 to introduce the smart-ticketing initiative across the city regions by the end of 2015
Passengers can now use one smartcard to travel on different bus operators' vehicles in the main metropolitan areas of Greater Manchester, Merseyside, Tyne and Wear, the West Midlands and South and West Yorkshire, as well as Nottingham, Leicester and Bristol.
The scheme has been delivered through significant private investment by Stagecoach, FirstGroup, Go-Ahead, Arriva and National Express, and support from transport authority partners.
Collectively, the five companies operate around six out of every 10 buses in the UK. At the same time, the cost of multi-operator travel has been reduced in a number of areas, with some prices cut by around 20%.
The 'Big Five' have said it will improve the accessibility of buses and connectivity between locations for more than a quarter of the population in England. Around 10,000 of the 26,000 buses in service in England outside London are located in the main metropolitan areas alone.
Around 15 million people live in England's nine biggest city regions that are within the Department for Transport's Smart Cities Partnership and cover more than 50 local authority areas. These regions account for a quarter of the country's jobs, as well as producing 23% of its economic output.
Stagecoach said the new system would build on the huge investment by many bus companies in digital technology. Robert Montgomery, Managing Director of Stagecoach UK Bus, said: "We have a multi-million-pound rolling programme of investment in giving our customers new digital tools to make their journeys easier.
"Stagecoach already provides passengers with the most extensive bus smart-ticketing platform outside London and we are delighted to work jointly with our industry partners and transport authorities to deliver more seamless travel to attract more people on board the country's buses."
Giles Fearnley, Managing Director of First Bus, said: "First Bus is delighted to have played its part in delivering this important development in smart-ticketing which complements our existing mobile ticketing offer available across all our networks.
"Along with our fellow operators, we are determined to work with our local authority partners to make it easy and attractive to use bus services."
Martin Dean, Managing Director of Bus Development at Go-Ahead Group, said: "Working together with industry and local authority partners we're pleased to play a significant role in the delivery of multi operator ticketing across England's city regions.
"We know customers appreciate seamless, simple, convenient ways to pay and smartcards, along with m-tickets and other digital payment methods, make travelling as easy as possible."
Kevin O'Connor, Managing Director UK Bus, Arriva Plc, said: "This is a significant step forward which has been achieved through a real partnership with our colleagues in local authorities and Passenger Transport Executives. It is one which has established a strong foundation from which to move on to offer our customers even more convenient ticketing in the near future."
Peter Coates, Managing Director of National Express UK Bus, said: "In the West Midlands, the partnership between National Express, Centro and other industry stakeholders has successfully delivered the Swift multi-operator and multi-modal smartcard.
"As part of the ground breaking Bus Alliance partnership we are committed to continuing our investment in technology and innovative ticketing that deliver further benefits to our customers."
The smart-ticketing initiative was larger in scale than the Oyster project in London and benefits nearly 6.5 million more people than the scheme in the capital.
It builds on existing paper-based multi-operator tickets which have been in place for many years and also enhances individual bus operators' own smart travel products.
Transport Minister Andrew Jones said: "This is a great example of the bus industry and transport authorities leading the way on smart-ticketing, working in partnership to make everyday journeys easier and more convenient for millions of people in city regions across the country.
"Buses are the backbone of our transport system, which is why our long-term economic plan is providing £250m to support bus services outside of London this year to help people get around and get on."