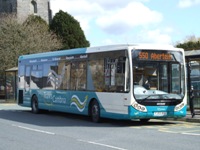 Fleet investment and service enhancements for West Wales
Arriva Buses Wales (ABW) is to implement a package of improvements to the Aberystwyth – Carmarthen – Cardiff corridor, which has traditionally formed part of the TrawsCambria Welsh long distance bus and coach network.
From February 26, the corridor will no longer be branded 'TrawsCambria' as ABW will be operating it commercially.
Michael Morton, ABW managing director told CBW: "Historically, the service has been commercial with a de minimis element. The Welsh Government tendered it and ordered new single-deckers. We've found double-deckers are required due to the loadings. We've already trialled two types of double decker.
"The current Optare Tempos have accumulated high mileages. The maintenance costs have now started spiralling. I'm not criticizing Optare products – far from it. One of them has done a million kilometers, a phenomenal amount for a single decker these days. We plan to introduce new high quality doubledeckers for the Aberystwyth to Carmarthen section in early 2013. They will be fitted with WiFi, a feature which will be standard on all frontline ABW vehicles. In the meantime we're drafting in higher quality single-deckers in the shape of seven VDL Wright Pulsars."
The service level is also being enhanced, as Mr Morton explained: "After lengthy discussions we found that by making more efficient use of the buses, we could operate new journeys. These include a 0500hrs departure from Aberystwyth, which reaches Carmarthen in time for a train to Cardiff for arrival by 0845hrs. We're still operating through journeys to Cardiff with two 49-seater coaches. The 03 and 04-plate Vanhool T9 Daf SB4000s are now being refurbished and repainted into Arriva livery."
Mr Morton said the longer distance routes are also being renumbered. The X40 Aberystwyth to Carmarthen will become the 40, which with rail connections will offer journeys to Cardiff; the 550 Aberystwyth to New Quay via Synod Inn will become route 50; and the twice-daily Aberystwyth to Cardiff via Bridgend will be renumbered 20.
Journeys on Friday and Sunday evenings which currently have to be duplicated as far as Swansea, will be operated as a route in their own right as service 10.
"The routes will collectively be marketed as 'Cymru Express'. As my staff have pointed out, if you stick Arriva in front of it, you get 'ACE'," concluded Mr Morton.
In a separate development, 10 high specification Wright Gemini2- bodied VDL double-deckers will be launched for the Chester to Rhyl corridor on February 9.
Mr Morton explained the move is part of a wider initiative to upgrade the North Wales Coast routes. "All services on the Chester to Caernarfon corridor will be marketed as 'Cymru Coastliner', which was previously used in Crosville days. We at Arriva Buses Wales are proud of our past."