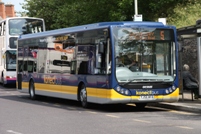 The fleet management partnership between Go-Ahead Group and MiX Telematics has seen fuel efficiency increase by 12% and accidents reduce by 17.6% since 2007/8. This has resulted in the contract between the two companies being extended for a further four years.
Originally covering 3,500 buses nationwide, including 1,500 in London, the on-going and sustained success of the programme has seen the contract grow over the past three years. MiX now monitors the performance of 4,000 Go-Ahead buses.
"Ours was the first large-scale deployment of a fleet management solution within the bus industry and the long-term results generated by the system, which have been achieved in combination with our other efficiency-enhancing activities, have certainly been impressive," commented Go-Ahead Group engineering director Phil Margrave. "Since its introduction, the MiX Telematics team has proved itself to be the perfect partner. The members understand our business, deliver on their promises and have worked alongside us every step of the way to continuously improve and develop our use of the system. They have also proven themselves to be more than capable of facilitating major change within a large organisation such as ours. The results speak for themselves and today fleet management is very much an integral part of our operation.
"While fuel and other cost savings are key, the MiX Telematics solution helps us in many other ways too. Training is one example, where we use the system to both identify training needs and monitor individual driver's progress. It has also enabled us to create the Go-Green Drivers Club, which drivers gain entry to by achieving an agreed level of fuel efficiency. Alongside this we run the annual 500 Challenge, our incentive scheme which sees our top performing drivers – as determined by the system – compete to win a brand new Fiat 500.
"Passengers also benefit from the improved comfort and safety facilitated by the system – we have even heard of customers choosing to wait in the queue for one of our buses to arrive because the journey is so much more comfortable!"
For MiX Telematics, marketing & operations director Steve Coffin, said: "We are naturally delighted Go-Ahead Group has decided to extend its fleet management contract with us. The close working relationship we have developed over the years demonstrates what can be achieved when best practice is shared, promoted and supported by two organisations with a common goal."
For more details, visit www.mixtelematics.co.uk