Arriva Midlands has joined forces with the University of Nottingham to provide the University community with a new intercampus bus fleet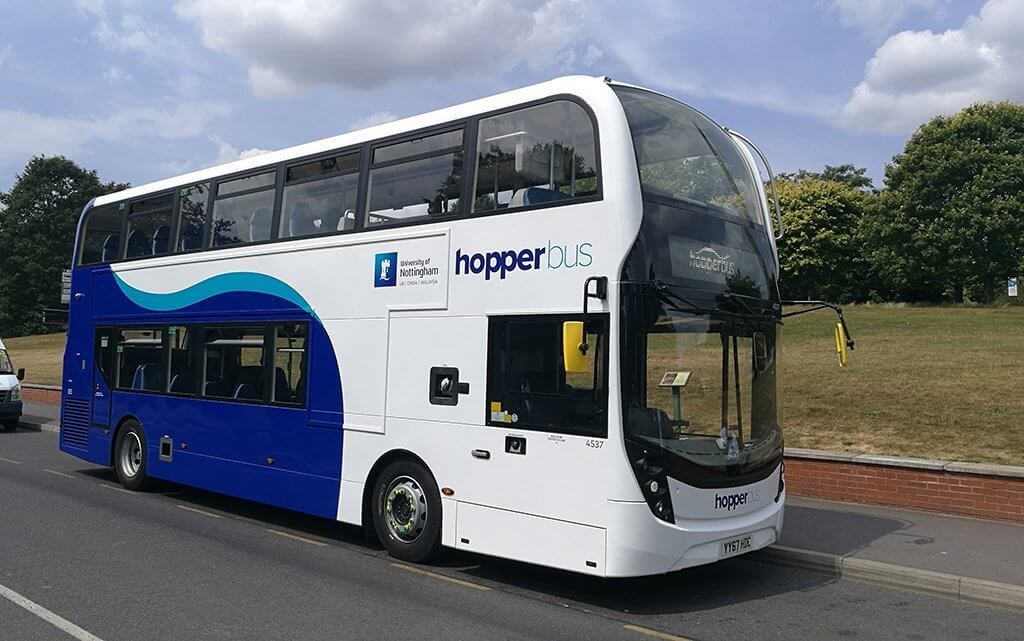 Arriva has taken over the University of Nottingham's 'Hopper Bus' service as of 5 August. It is free for students, staff, and visitors to the University.
There will be free Eduroam WiFi and charging points for mobile phones and tablets, on-board destination screens displaying up-to-date passenger information, GPS journey tracking via the free Arriva Bus app, and E-Leather seating on the buses.
Simon Mathieson, Area Managing Director for Arriva Midlands North, commented: "We are honoured to be partnering with the University of Nottingham to improve transportation for the thousands of students and staff who use buses to travel between the University's multiple locations.
"We have worked hard to ensure we have delivered a network which will not only improve the on-board experience of travel, but is more environmentally sustainable too. These buses will be fitted with bike racks as standard to encourage greener end-to-end travel, whilst the buses themselves conform to Euro VI engine standards and have start/stop technology, demonstrating Arriva's commitment to clean air.
"We are confident that these buses will make a real difference to those studying at the University of Nottingham, and will provide a future-proofed solution for the modern transport challenges of people choosing to learn at this esteemed establishment."
The 'Hopper Bus' network links The University of Nottingham's University Park Campus, Jubilee Campus, King's Meadow, Sutton Bonington, and Royal Derby Hospital. Following on from Arriva's relaunch of the service, the company says: "Students will see an improved frequency on the Royal Derby Hospital route as well as extension of the Sutton Bonington service to Kegworth for better access to local amenities."
Gavin Scott, Environment Manager at the University of Nottingham, said: "We are delighted to be working in partnership with Arriva to deliver our intercampus connectivity. The enhancement in connectivity to a number of our campuses, coupled with the lower emission vehicles and on-board facilities will help to further enhance the student experience here at Nottingham."