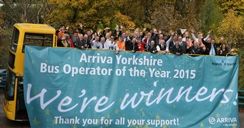 Arriva Yorkshire has celebrated with the Mayor of Wakefield, employees, local councillors and customers after being crowned Bus Operator of the Year at this year's National Transport Awards.
The awards, now in their 15th year, are designed to recognise, celebrate and promote excellence and best practice throughout national and local transport projects.
Nigel Featham, Regional Managing Director for Arriva Yorkshire, said: "We're delighted to have won this award.
"Our employees work tirelessly to provide the best possible service for our customers and it means so much for them to be recognised nationally. We wanted to do something really special to mark this occasion and what better way than to welcome everyone aboard an open-top bus for a traditional home-coming celebration.
"What with the launch of our new MAX network, our journey planning app, and our premium Sapphire service, there's definitely been a big focus on improving the journey experience for our customers, so it's great to have these efforts recognised."