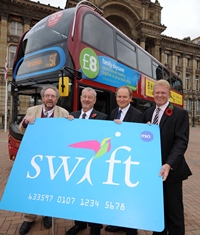 The new smartcard can be used on the services of 24 different operators, including National Express West Midlands and National Express Coventry
Centro launched the Swift pay-as-you-go smartcard on Friday, October 23.
Swift allows passengers to load cash on the card and then buy single, return and day tickets on all buses in the region, including National Express West Midlands and National Express Coventry services, as well as 22 other operators in the region.
Centro is Swift's delivery body, overseen by the Transport Delivery Committee (TDC).
Cllr John McNicholas, the Chairman of the TDC, said: "We have delivered a smart ticket that will revolutionise bus travel in this region.
"Rolling out PAYG will open up the Swift card to passengers as never before, delivering Oyster-style benefits that give a convenient and secure way of getting around the West Midlands cheaply and easily."
Peter Coates, Managing Director of National Express West Midlands, said: "Pay As You Go Swift cards will make it even cheaper and easier to use the bus.
"I speak to dozens of customers every day and many tell me that the improvement they want most is better and easier ways to pay, that is what this new Swift card delivers."
Pay-as-you-go is used in the same way as cash but is cheaper for passengers, as many operators offer a discount of more than 10%. Passengers load cash onto their Swift PAYG card and use it to buy single, return and day tickets on bus.
Cards can be topped up online through a passenger's Swift account, or by visiting one of 250 PayZone outlets across the West Midlands, or a Network West Midlands Travel Centre.
They can also be topped up online by using one of 100 Swift card collector machines at bus stops across the region, or by using the Swift card android app available from the Google Play store.
Swift PAYG can also be linked to a credit or debit card to activate an Auto Top-Up which means it will never run out of credit. Each time the PAYG balance falls below the Auto Top-Up trigger of £10 it will automatically top-up the credit with the amount the customer chooses (£20, £30, or £40).
There are currently 13,000 Swift card users making more than 500,000 journeys a month.
WMITA Chairman Cllr Roger Lawrence said: "I am delighted that Swift now offers Pay As You Go to passengers.
"Smart ticketing is a service that makes bus travel simple and even more accessible, and it's easier than paying with cash as it removes the hassle of having to rummage around for the right change."