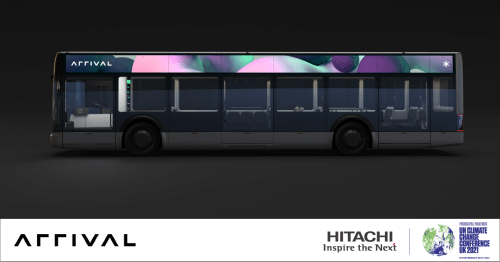 A joint partnership has been announced to develop end to end solutions for the European bus industry
Arrival and Hitachi Europe have joined forces in a bid to deliver bus and infrastructure solutions to the European bus industry in a non-exclusive partnership which combines Hitachi's digital and operational knowledge with Arrival's manufacturing capability. Together, the companies say they will work with operators to 'deploy integrated end to end solutions that incorporate all aspects of owning and operating Arrival vehicles' including items such as charging infrastructure and digital tools.
The partners believe that the joint offering will not only simplify the transition to electric but when combined with the lower total cost of ownership that Arrival's vehicles and technologies promise, will create a 'compelling finance model' that will accelerate the transition to electric vehicles for businesses across the UK, and Europe.
"We're delighted to join forces with Arrival as we become the partner of choice for municipalities and bus operators to deliver end to end and integrated estate wide roll-outs of electric vehicles and infrastructure," said Mike Nugent, Head of EV, at Hitachi Europe. "As governments look to phase out petrol and diesel vehicles in the next decade, providing the wide range of necessary solutions and technologies in an integrated, streamlined and operationally-manageable way will be vital for bus operators and municipalities across Europe."
"We are pleased to work with Hitachi to bring bus operators yet another way to accelerate their transition to electric, bringing cleaner air to our cities and better experiences to passengers across Europe," added Hamish Phillips, Head of Sales, UK, at Arrival. "Arrival's vehicles already provide a much lower total cost of ownership for customers, and when incorporated into Hitachi's business model we can see an even more compelling business case for companies to transition their fleets to electric more rapidly."
Ram Ramachander, Chief Commercial Officer for Social Innovation Business, Hitachi Europe commented: "Hitachi is creating an ecosystem of partners and solutions across the EV value chain to help our customers navigate the transition to electric mobility. Our partnership with Arrival is another important step in delivering this strategy."