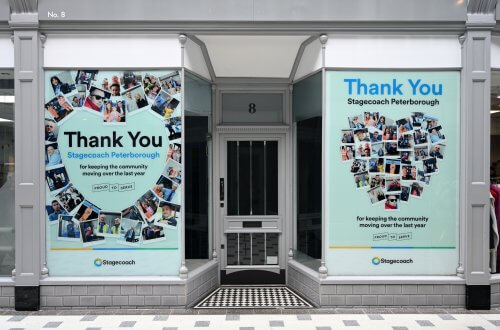 Stagecoach East has announced a partnership, with Queensgate Shopping Centre in Peterborough, to produce an art installation in honour of its staff, to thank them for their hard work and dedication as key workers during the Covid-19 pandemic.
The project aims to publicly recognise the 'incredible service and commitment', demonstrated by Stagecoach East's staff over the last year, to keep the region moving and provide a crucial means of travel for key workers, including NHS staff.
Darren Roe, Managing Director of Stagecoach East, said: "We owe a great deal of gratitude to our fantastic drivers, managers, engineers and the staff behind the scenes, as well as their families, for their unwavering spirit and dedication during these tough times.
"We are excited to unveil the Queensgate installation in their honour, as a public sign of thanks for their incredible service and to shine a light on these unsung heroes, who have helped to keep the region moving forward during this challenging year."