From September 27 to December 23, 2013 the Abbot Hall Art Gallery in Kendal is hosting the Radev Collection as it explores the Bloomsbury Group of artists. The Gallery is the only Northern venue to date to show this private collection which has only recently been shown to the public. The exhibition contains a stellar list of artwork including pieces by Duncan Grant, Alfred Wallis, Ivon Hitchens, Ben Nicholson, Keith Vaughan, Graham Sutherland, Pablo Picasso, Lucien Pissarro and Vanessa Bell.
The Bloomsbury Group or Bloomsbury Set was an enormously influential group of English writers, intellectuals, philosophers and artists, the best known members of which included Virginia Woolf, E. M. Forster, Vanessa and Clive Bell and Duncan Grant.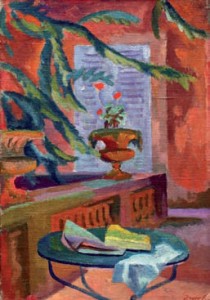 The Collection is named after Mattei Radev, who came to Britain in the 1950s as a stowaway on a cargo ship, fleeing from communism in his native Bulgaria. Radev went on to build a new life in London mixing with the artistic Bloomsbury circle and becoming a leading picture framer for the London Galleries.
Groups of 10+ receive a 29% discount on standard admission. Free reserved coach parking is available with the coach welcomed by a member of staff. Pre-booked catering options are available with reserved seating. Group organisers and coach drivers each receive free admission as well as refreshment vouchers and discounts.