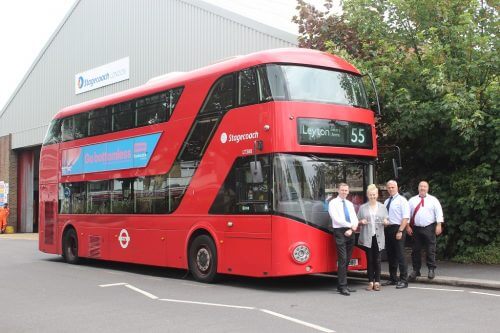 Following Stagecoach London's Leyton depot's success at winning the Gold Award for London Bus Garage of the Year at the UK Bus Awards Jade Smith visits to find out what factors go into producing an award-winning depot
Stagecoach London's Leyton depot is at the heart of the community, even in the literal sense as it is nestled between a local primary school and church, rather than being hidden away like many other depots.
It wasn't difficult to locate the impressive building, originally built in 1912, and I was warmly welcomed upon arrival.
Simon Davis, Garage Operations Manager and Josie Meredith, Assistant Garage Operations Manager were joined by David Jones, Assistant Communications Manager to outline the depot and specific areas that had secured the award.
Origins and current roles
Josie is a graduate trainee who joined the programme after studying economics at university: "I did a lot of transport economics at university so I was interested in working in transportation, but also people management. While it's an operations role, you are managing people 90% of the time. I did my first year in Lancaster as a trainee and then I've been here for a year. I've been covering day-to-day areas such as chatting to drivers, ensuring they are happy and we're happy with them.
"Every day is different. I monitor the areas that Transport for London (TfL) measures us on. The Bus Customer Experience Survey (BCES) scores, speaking to anyone who needs help with that and allowing them to understand why they may have lost marks and how they can do better. I also review accidents, watch CCTV and see drivers both formally and informally."
Simon said that having Josie is great as she provides a fresh perspective and is someone who is very open-minded and able to challenge him. It has complimented the management team having people who are fresh to the industry, allowing them to try new things, rather than sticking to the status quo.
Simon's background is in banking: spending five years with Lloyds TSB in Newcastle originally and then in London. "I got a bit bored with project management and e-commerce," he said. "A friend of mine joined the industry as an inspector and told me how much fun it was so I joined six months later when a position came up.
"A year after joining the industry I was advised of an internal Stagecoach development programme designed to take people with potential and turn them into managers. I successfully got onto that in 2004 and became an assistant manager soon after, finally Garage Operations Manager in 2006.
"We like the job because it's so varied – one minute you're looking at accounts, key performance indicators (KPIs) or investigating data trends and the next you're talking to a driver who's having a domestic problem. We ensure that everyone else can do their jobs by taking care of all the basics. We're the plate spinners!"
When I visited, Josie was due to move over to Bromley, having been promoted to Garage Operations Manager. "I am looking forward to moving on," she said. "I haven't had a chance to think about it because it's happened so fast. I'm going to miss it here as it's a lovely garage and a good place to start in London. I'm excited to see what it will be like in Bromley though, as I've never been there before."
Asked what changes he has witnessed whilst being in the industry, Simon said: "I've seen a lot more automation in systems and an increase in monitoring.
"TfL changed the way they monitor us on our mileage a few years ago so instead of us declaring to them what we haven't done, they tell us what we have done. The general monitoring from TfL is a lot more intense and therefore our internal managers monitor us a lot more.
"We've moved away from a lot of the paper-based systems. We have online performance and attendance management so areas that used to be very labour-intensive are a lot easier now. We have more time to talk to people now rather than filling in cards as a lot of it is on spreadsheets. If a driver walks into my office I can just click a button and see their attendance card. It has sped up certain processes so we can do more talking. Technology has made us a lot more accountable and it's a lot easier to talk to people as the legwork has been done for us with the data we have."[…]
What you get with a subscription
Operator & Supplier Profiles
Face-to-Face Interviews
Lastest News
Test Drives and Reviews
Legal Updates
Route Focus
Industry Insider Opinions
Passenger Perspective
Vehicle Launches
and much more!