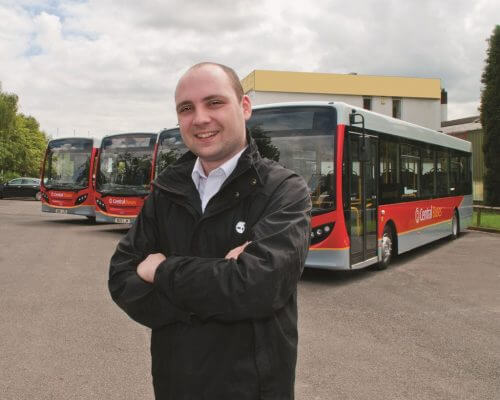 Young entrepreneurs in the bus industry seem to be rare, but one that stands out is Geoff Cross of CEN Group, the Birmingham-based company he founded 14 years ago when he was still in his teens. What motivates Geoff is developing new opportunities and what he has created is a multifaceted business with two distinct profit centres as he explained to Andy Izatt
Although it's one company, Birmingham-based CEN Group is actually two quite separate, but complementary businesses. Central Buses operates routes across the West Midlands and beyond while Centrad supplies vehicle monitoring and safety systems. Founder and Managing Director is Geoff Cross who is one of the bus industry's few young entrepreneurs.
"I'm 31 years old now, but was just 16 when I started putting my plans together for operating buses," explained Geoff. "September 15, 2003 was the go live day for Central Buses. I remember it well.
"I'd always been interested in transport. I don't know if it's in the blood, but my great grandfather had been an inspector with PMT (Potteries Motor Traction). My grandmother on the other side of the family didn't drive so we would be out riding on buses virtually every weekend. It was a competition to see how many we could travel on in a day. I was fascinated by them and how the deregulated market worked.
"I didn't like being told what to do when I was at school. However, I took my exams and could have gone on to sixth form, but that would have been just ticking a box. I'd been working part-time on Saturdays at Birmingham-based Pete's Travel so went there full-time after leaving school in the summer of 2002.
"Working for Pete's was possibly one of the best decisions I've ever made as it almost taught me how not to run a bus operation.[…]
What you get with a subscription
Operator & Supplier Profiles
Face-to-Face Interviews
Lastest News
Test Drives and Reviews
Legal Updates
Route Focus
Industry Insider Opinions
Passenger Perspective
Vehicle Launches
and much more!