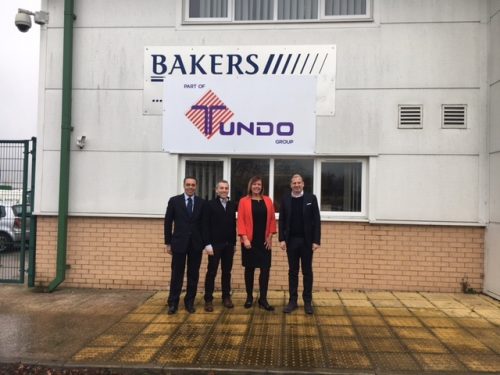 SEN contracts to be focus after sale of Potteries coach firm to Italian owners
Bakers Travel, previously owned by the Chinese coach company Hino has been sold to Italian organisation Tundo Vincenzo SPA.
Describing itself as a 'multi-million pound organisation which operates in 14 Italian regions, employing in excess of 1,000 employees,' Tundo specialises in transporting passengers with special needs. Tundo said it was looking to expand its company into the UK, and identified Bakers as the ideal company in the Stoke area to acquire and complement its requirements.
Tundo representative Lorenzo Botti said: "We liked Bakers very much. Bakers has a very good reputation in the industry, particularly in the Stoke area. Bakers in their own rights has secured a number of lucrative contracts such as Reaseheath Agriculture College, Kings School, Nike academy, Portvale AFC, Crewe Alexander AFC and Macclesfield Town AFC. The former shareholders, Hino, has retained their contractual support into Bakers specialising in Chinese tourists.
"This acqusition will springboard Tundo's operations into the Stoke area and indeed into the UK. Bakers has the capacity, infrastructure and equally shares our vision, appetite and optimism for the future."
Among the changes made by the new owners to date, Debbie Windle, formerly Bakers Public Relation Officer, has been promoted to the role of Sales and Marketing Director.
Debbie said: "It's a very exciting time at Bakers. My fellow managers and I look forward to working with the Tundo directors and management team. This is a fantastic opportunity for Bakers to become part of the successful Tundo organisation. Tundo Vincenzo specialises in transporting passengers with special needs and this will be the main focal point of immediate growth.
"The directors and Management Team of Bakers Travel will work closely with the directors of Tundo to ensure that the new owners are able to develop an in-depth knowledge and awareness of all aspects of the existing contracts and business, but will be embracing a new opportunity of offering transport to people with special educational needs to the surrounding Stoke schools."
Asked by CBW how many vehicles the combined Bakers and Harrington operation runs, and whether both brands are based in Biddulph, Debbie Windle, Sales Director, replied: "Harringtons is a wholly-owned subsidiary of Bakers travel. Bakers has a five-year leasehold on its impressive depot, which is equipped with a five-bay garage and parking for up to 70 coaches.
"The acquisition includes all 20 coaches of Bakers and 35 members of staff."