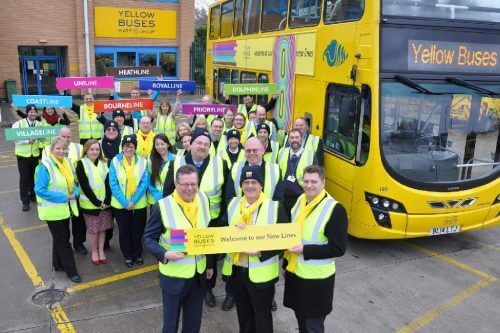 Along with a network overhaul, the operator has released a London Underground-style map to make the services easier to understand
Yellow Buses has launched its coloured route branding and network overhaul.
Leader of Bournemouth Council, Cllr John Beesley, and Bournemouth Borough Council's Executive Director for Environment and Economy, Bill Cotton, visited the bus company's Yeomans Way depot in readiness for the launch on Sunday, January 15.
The operator has introduced eight colour coded lines through Bournemouth, Poole and Christchurch and will be serving Ringwood for the first time in its history.
The new lines are named Bourne, Priory, Uni, Royal, Village, Coast, Dolphin and Heath, which Yellow Buses said is to reflect its local connectivity and sense of community.
The new routes operating on each line will be denoted by the first letter of the name – e.g 'R' (for Royal) followed by the service number.
All of the current 22 service numbers have changed with the exception of four routes which are subsidised by Bournemouth Borough Council and the Borough of Poole.
The new network will focus on key hubs, including the Royal Bournemouth Hospital and Bournemouth University, while offering new off-peak connections to destinations such as Mudeford, Verwood and Ringwood. The route map has been designed to resemble the iconic London Underground map.
The new network is designed to reflect the changing life and work patterns of its passengers as well as simplifying the routes and addressing congestion.
Extra early morning and late night services have been introduced on some routes to help shift workers at locations such as Bournemouth town centre, Poole town centre and the Royal Bournemouth Hospital.
Journey times have also being revised on several routes in order to improve punctuality and reliability, while bus frequencies and timings are being simplified.
Andrew Smith, Managing Director, said: "We have spent a long time speaking with passengers and analysing data in order to make the changes work for everyone.
"Yellow Buses in one form or another has proudly served Bournemouth and the surrounding area for 114 years, but the needs and requirements of our passengers are constantly changing.
"Our new network highlights that unique local bond with the introduction of an even more customer orientated service using route names which reflect the area served.
"It's a network designed for the needs of our customers in 2017 and we believe it will prove very popular."
Cllr John Beesley, leader of Bournemouth Council and formerly a Non-Executive Director of Yellow Buses, said: "The new network and colour-coded system will make it easier and more convenient for passengers.
"And the map is instantly recognisable because it's based on that of the London Underground so it will help visitors and tourists."