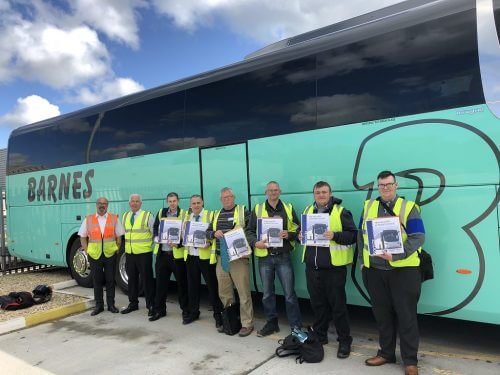 Swindon-based Barnes Coaches has announced the introduction of an all-new apprenticeship scheme for coach drivers – which the company believes is the first of its kind in the industry.
Named the Trailblazer Apprenticeship, the scheme got underway on Wednesday, May 2 and is due to run for 13 months.
The seven trainees currently taking part in the scheme will receive a minimum of 30 hours of paid training per week; initial 'on-the-job' training includes driving eight seat minibuses, accompanying experienced coach drivers on the road and general duties around the yard and office.
By month five, it's expected that each participant will have passed their PCV driving test – by which point they will become a full-time contracted driver, although they will continue to receive additional training.
The operator will cover the cost of all the necessary training, in addition to providing apprentices with vehicles to learn in.
Matt Barnes, Director at the company, explained to CBW the role Backwell, Somerset-based Somax Driver Training will play in the scheme: "I've always wanted to do an apprenticeship. I've been asking training companies for years and never got anywhere.
"Eventually, I heard that Simon Werkshagen, founder of Somax, was offering this sort of thing. So I gave him a ring, we had a meeting and I liked it. Between us we had it up and running within a couple of months.
"All but one of the apprentices were recruited through a social media push and I was impressed with the candidates when I interviewed them.
"We do OK for drivers overall and have a good percentage of young drivers, but we're always on the lookout for more. If this scheme means we can take impressive people, with good personalities and turn them into coach drivers – I'm all for it.
"I think we and much of the coach industry as a whole have been pretty lazy when it comes to recruiting drivers. We tend to look for other drivers in the industry, rather than sorting it for ourselves.
"We also spend far too much time looking at the negatives of the job rather than pushing the many positives.
"I have great hopes for this batch of apprentices. Hopefully by the time they get their driving licence they will know what the industry is all about as they have had first-hand experience of it.
"I'm sure they will hit the ground running as soon as they pass their test and be a great asset to us."