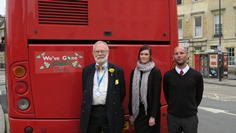 Bath Bus Company has successfully secured its bid to fit seven of its open-top Ayats-bodied Volvo B7TLs – used as tour buses – with selective catalytic reduction technology.
Traffic regulation conditions for tour buses mandates a minimum emission standard of Euro 3, however the new exhaust systems have allowed the vehicles to surpass Euro 5 standards of emission.
The funding required for the upgrade was awarded to the West of England by the Department for Transport's (DfT's) Clean Bus Technology Fund, in an attempt to improve the emissions of the region's buses. The four local authorities in the area worked together in putting a bid in for three operators – including Bath Bus Company.
Bath Bus Company was granted £107,000 for this work to further improve the emissions of the buses – which were already ahead of the required emissions standards for Bath.
Martin Curtis, Managing Director for Bath Bus Company, told CBW: "We started running open topped buses in Bath 10 years ago, as one of four operators. We are now the only remaining operator of open-toppers in the city.
"We have consistently raised standards, by using new vehicles and being the first operator to use headphones on the vehicles to avoid disturbing residents.
"After repeatedly improving standards for the last decade, we are proud to be once again improving the vehicles which started the process."
Cllr Anthony Clarke, Cabinet Member for Transport (Conservative, Lansdown), said: "The improved and cleaner technology on these upgraded buses will assist with the Council's long-term commitment to improving transport, reducing pollution and improving air quality and the health and wellbeing of our residents and visitors.
"We were delighted that the Department for Transport recognised this commitment across the West of England with this funding announcement earlier in the year, and I am pleased to see that Bath Bus Company has been able to start carrying out this upgrade so quickly.
"These tour buses are a great way of showing off everything that our World Heritage City has to offer, so it is excellent that this attraction can be delivered with a reduced environmental impact."
Bath Bus Company directly operates open-top "City Sightseeing" tours in Bath, Cardiff, Windsor and Eastbourne
The first of the upgraded open-top tour buses entered service on June 1 this year.