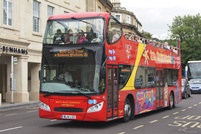 New open-toppers are the first vehicles of their kind in the UK
City Sightseeing's International Operator of the Year, Bath Bus Company, has taken delivery of two new Volvo B9TL full open top double-decker buses with UNVI Urbis 25 bodywork.
Destined for use on popular tourist routes in Bath, the new buses are the first of their kind in the UK and Ireland. Built on the Volvo B9TL Euro 5 chassis, the UNVI Urbis 25 bodywork allows for two doorways and two internal staircases. The left-hand drive version of this specification is used across City Sightseeing operations in Europe, but this is the first time a right-hand drive version has entered service.
The driveline on the new vehicles is the familiar transverse-engined layout featuring the Volvo D9B 260bhp six-cylinder engine and automatic gearbox.
Strict traffic regulation conditions within Bath's boundaries carefully control vehicle types, routes, bus numbers and stop dwell times.
With a departure every six minutes, during summer months, the new vehicles are optimised for passenger flow. The buses are also half a metre longer compared to earlier models in the fleet, at a little under 12 metres in total. They are specified with 76 passenger seats, 53 seats on the upper deck and 23 seats on the lower deck. There is also additional space for wheelchairs, as well as ramped access.
Bath Bus Company Managing Director, Martin Curtis, explained: "It was the attractive combination of Volvo Bus and UNVI Urbis 25 bodywork that resulted in our placing the original order and we're delighted with the completed vehicles.
"Their specification increases the speed at which passengers can embark and alight at busy city centre stops. This helps the company adhere to Bath city centre stopping guidelines and uses the buses to their full capacity during busy periods."
Speaking to CBW, Marin added: "The vehicles have been in service for about a week now and are able to load and unload extremely quickly. They are already proving their worth."
Volvo Bus Regional Sales Manager, Phil Fletcher, said: "We're delighted to finalise the delivery of these unique double deck buses. We were able to offer our proven Volvo B9TL chassis with the dual doors and staircases thanks to UNVI Urbis 25 bodywork.
"Bath Bus Company has a large amount of customers to cater for at peak times and the delivery of these new optimised vehicles affords them much greater opportunity for passenger movement. In the long-term this will positively influence their whole business. Therefore it is quite a significant delivery."