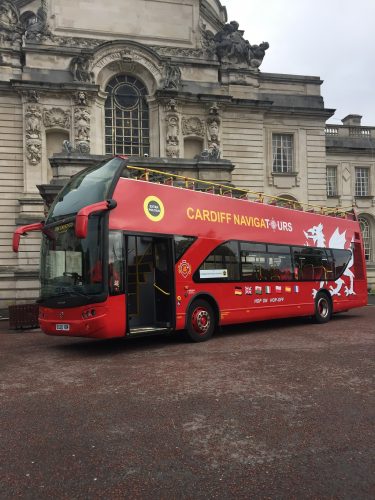 RATP-owned Bath Bus Company has launched a new brand for its open-top services in Cardiff.
A vehicle bearing the new Navigatours livery was launched by the Lord Mayor of Cardiff, Cllr Monica Walsh, at Cardiff Civic Centre.
Cardiff Sightseeing also handed over a number of cheques, with the proceeds going to the mayor's charity.
Tracey Trew, Transport Manager for Cardiff's Open Top Sightseeing Tours, said: "The Navigatours livery launch adds an exciting new style for Bath Bus Company's fleet in Wales.
"As the capital city, we are extremely proud to be the first destination to operate under the Navigatours name and are excited to keep driving forward in further growing the Cardiff Sightseeing tours."
Miss Cardiff 2017, Sophie Ekstrom-Gabb, also supported the launch, along with Birchgrove Primary School Choir, who put on a performance alongside the bus. Two of the company's longstanding guides were dressed for the occasion in traditional Welsh costume. 'Dai the Welsh Dragon' also made an appearance.