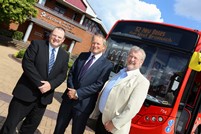 A £9m fleet of 52 new buses has been unveiled by National Express West Midlands (NXWM), working in partnership with Centro.
The buses are to operate in Sandwell, travelling across the borough from the bus depot at West Bromwich, and will be a mixture of double and single-decker vehicles.
The Alexander Dennis buses have been introduced as part of the Partnership Plus deal between Centro and NXWM. They will carry CCTV systems with pictures being displayed on screens in the vehicles.
Partnership Plus was signed in 2013 and will see a string of investments and innovations delivered by 2015 when it comes up for review. It will include more than 300 new buses for the region, new bus shelters, and the introduction of the Sprint Rapid Transit system between Birmingham and Quinton.
Cllr John McNicholas, Chairman of Centro, said: "This investment is yet another example of the very real benefits that Centro's partnership with NXWM is bringing to bus users across the region."
Peter Coates, Managing Director of NXWM, added: "The new midi buses will also help us to provide better bus services to housing estates."
Cllr Darren Cooper, Leader of Sandwell Borough Council, said: "It's great news for Sandwell, especially as we're getting the region's biggest investment in new buses this year.
"It's a major investment from National Express and Centro and really good news for public transport in Sandwell."