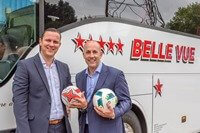 Belle Vue Manchester has won a contract to co-ordinate transport for thousands of youngsters taking part in sports tours across Britain and in Europe.
The firm has secured a two-year deal with inspiresport (sic), whose tours offer young people the chance to play and train at leading clubs throughout the UK and in EU countries including Spain, France, Germany, Italy, The Netherlands and Portugal.
Belle Vue has been appointed to co-ordinate transport in the UK, France and Holland. It will use its own coaches and those of third party operators to meet inspiresport's transport requirements.
Phil Hitchen, Managing Director of Belle Vue Manchester, said: "It is with great pleasure that we extend our contracted services to inspiresport.
"We are delighted to have this opportunity to make our relationship stronger. The whole team is looking forward to providing the highest level of service to all passengers."
Gordon Tole-Moir, Head of UK operations at inspiresport, said: "Until now we have used a variety of coach companies, including Belle Vue.
"We wanted to appoint a sole co-ordinator for our transport to make our operations more efficient.
"Belle Vue has provided a high-quality service over several years and has shown a clear understanding of our requirements, so we decided to approach them to fulfil this important role."
Steve Butchart, Chief Executive of inspiresport, added: "Belle Vue has been a valued partner over the last few years.
"As the UK's leading youth sports tour provider, quality is of paramount importance to us and Belle Vue provides our customers with a great service.
"We look forward to a mutually beneficial and stronger relationship through 2016 and 2017 with great service, friendly drivers and quality coaches."
Inspiresport organises more than 250 tours each year for schools, youth groups and sporting academies, enabling them to be professionally coached at world-class facilities for football, cricket, netball, rugby, hockey, tennis and skiing, as well as dance and other performing arts.
In addition to receiving training, groups undertake stadium tours and fixtures against local teams during their trips.
Inspiresport carries nearly 8,000 people each year and is endorsed by sports bodies including the English Schools Football Association, Netball Europe and Premiership Rugby.
Established in 2004, the company is based in Cardiff and has offices in Glasgow, Mallorca and at Manchester City's former training ground in Carrington, Greater Manchester.