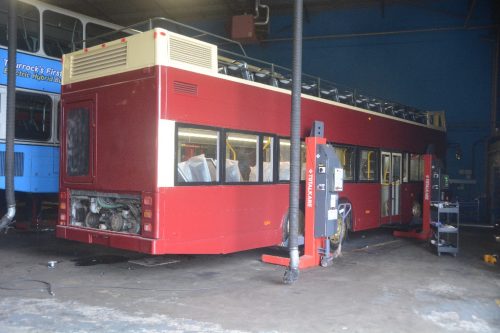 Big Bus Tours expands in Australia and bolsters its US-based fleet
Big Bus Tours has bought the sightseeing business that Ensignbus managed in Australia.
Ensignbus Chairman Peter Newman told CBW that he had been approached by three potential buyers that wanted to acquire the operation. Big Bus Tours was successful and has bought the freehold of a depot in Sydney, as well as 15 Ankai open-top double-deckers. A tour using two more Ankais in Brisbane was included in the deal, as was a 50% share in a Darwin-based sightseeing operation.
Big Bus Tours has also bought seven former Copenhagen East Lancs Nordic-bodied Volvo B7Ls from Ensignbus for operation in the US. The last of the seven is now being prepared at Ensignbus' Purfleet workshop. As well as a complete open-top conversion, 51 new Fainsa plastic seats have been installed on the upper deck. The buses used to have three doors and two staircases. However, the rear staircase and doors have been removed, enabling 31 seats to be installed in the lower deck.
All glazing has been replaced with Percy Lane Products IG glass – a mix of sliding and emergency windows – and an escape hatch has been installed in the lower saloon ceiling. Newcastle-based Smiles Engineering installed replacement Navistar engines and cooling packs.
Ensignbus dispatched a converted Copenhagen East Lancs Nordic-bodied Volvo B7L for use by the sightseeing operation it then owned in Washington DC several years ago. It has just been given approval for its operation by the US authorities following the completion of testing more than five years after it was originally shipped. "The first bus has been in America for years as we tried to get it certified," said Peter. "Big Bus inherited it when it bought our Washington DC operation and having got approval for it, it made sense to convert the other seven."