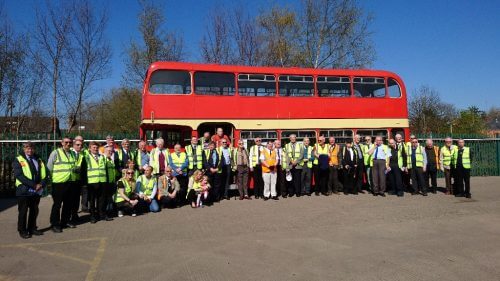 The Midland Branch of the Omnibus Society celebrated its 70th anniversary on Saturday, April 8
Guests such as the MD of First West of England, James Freeman and Stagecoach Midlands' Commercial Director, Pat Stringer attended the event at the British Motor Museum, Gaydon.
Some arrived in style, as members from the south arrived in a Stagecoach Midlands' heritage Bristol Lodekka FLF (JAH553D), while members from the north arrived in a TM Volvo/Plaxton coach with the cherished registration 'YRC180.' Stagecoach Midlands kindly supported the event by putting the 51-year old FLF at the parties' disposal.
Attendees were treated to a presentation on the history of the branch and its bulletin, after which there was free time to explore the museum. Once that was complete, the FLF was ready to transport guests to Stagecoach's Leamington depot.
Geoff Lusher, Branch Chairman, said: "The branch committee has worked very hard to commemorate a special occasion for the branch and we were blessed with excellent weather. As well as guests from within the society and industry, we were delighted to welcome young Toby Somers. Most of us were bus-mad at his age. Whether he grows up to work in the industry or not, the OS will be there to support his interests, be they in routes, vehicles or the development of the industry as a whole."