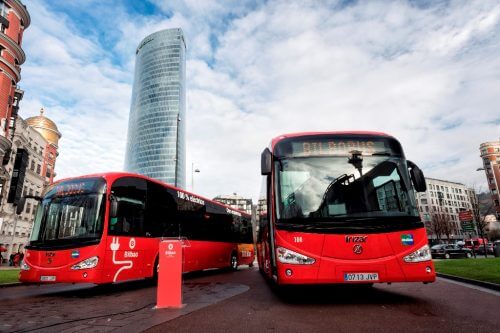 Two Irizar i2e electric buses are a first for principal city in Basque Country of Spain
Spain Bilbobus of Bilbao has added a pair of Irizar i2e electric buses to its fleet. The 12m-long, 100% electric vehicles with a range of over 200km have sodium-nickel batteries that provide power to the electric motor resulting in a nominal torque of 1,500No and 180kW of power. Battery life is enhanced through regenerative braking. USB chargers have been specified by Bilbobus.
Irizar has also supplied the charging stations and the smart charging system for the buses, developed by Irizar Group company Jema, which automatically manages and optimises electricity consumption.
"With this purchase Bilbobus becomes the first road public transport (locally) to include electric vehicles in its fleet," said Deputy Mayor and Councilman of the Transport and Environment Department, Alfonso Gil. "Bilbao is once again at the vanguard of technological innovation.
"This initiative is part of the city council's commitment to the environment and sustainability, and the search for solutions to reduce the impact of transport on the environment and to search for sustainable alternatives."
Irizar says that the i2e has a very low carbon footprint. Compared to a conventional diesel bus, around 800 tonnes of CO2 are prevented from being emitted during its entire service life. Six i2es operating in Marseille have been used to convert an entire route to electric operation – said to be a French first.