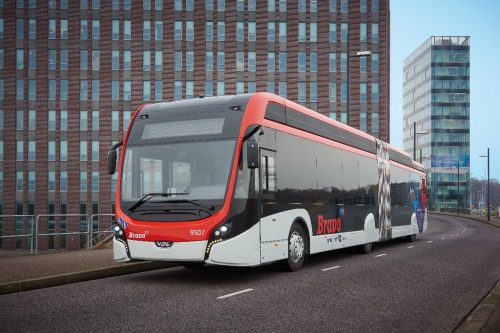 HOLLAND Transdev-owned Hermes has introduced 43 VDL Citea SLFA Electrics in the Eindhoven region. The vehicle manufacturer has also supplied the charging stations and supplies them with power in cooperation with the electricity supplier.
Passenger transport company Hermes, which won the Zuidoost-Brabant concession has been working with the Province and various partners including VDL, TU/e, Fontys, Eindhoven Airport, Stichting Zet and Storeplay to achieve its objectives. In addition to zero emission, the concession includes ambitious targets covering sustainability, innovation and mobility. This, says VDL, makes it one of the most progressive in Europe.
The VDL Citea SLFA Electric is an 18.1m electric articulated bus built to an updated, futuristic BRT (Bus Rapid Transit) design. With the delivery of these buses, Zuidoost-Brabant has one of the largest zero emission bus fleets in Europe. The vehicles operate on certain high-frequency routes to create a tram-like system. Destinations include Eindhoven Airport and the High Tech Campus.
The tender was originally issued by the Province of Noord-Brabant with the objective of transitioning to entirely zero emission public transport in the period 2016-2025. The intention is for the city of Eindhoven to go fully electric in 2020.
Willem van der Leegte, President and Chairman of the board of VDL Groep, said: "We are very proud to have the privilege of working with Hermes and the province of Noord-Brabant on the transition to zero emission bus transport in Zuidoost-Brabant. We have always been a forerunner in the development of economical, environmentally friendly vehicles. With the delivery of the 43 electric Citeas a big step has been taken in boosting the sustainability of public transport."
The replacement of the vehicle fleet in Zuidoost-Brabant will be carried out in stages. Each stage will be carried out utilising the latest state-of-the-art technology and the VDL zero emission buses with accompanying charging infrastructure can also be functionally and economically optimised every step of the way.
In addition to the 43 Citeas SLFA Electric, 65 Citeas SLE, 29 VDL community buses and two VDL MidCity buses were also delivered. These buses are needed to convert part of the current diesel fleet to Euro 6 versions to achieve a cleaner transition to zero emissions.
The VDL Citea SLE is 12.9m long. Comfortable seats are adjustable and fitted with armrests and folding tables. All seats face the direction of travel. There is WiFi on board as well as a large number of USB connections.